Headed to the BNP Paribas Open at the Indian Wells Tennis Gardens and, perhaps, indulging in a drink or two? We have you covered with our guide to the booze available at the tournament.
And be sure to check out our picks for the best food at the tournament over here. 
Champagne
Moët & Chandon kind of owns this place this time of year, with a huge setup in the middle of the Indian Wells Tennis Garden complete with not only a bar to order up your glasses, but also cabanas that are available to those who cough up $124 + for bottle service.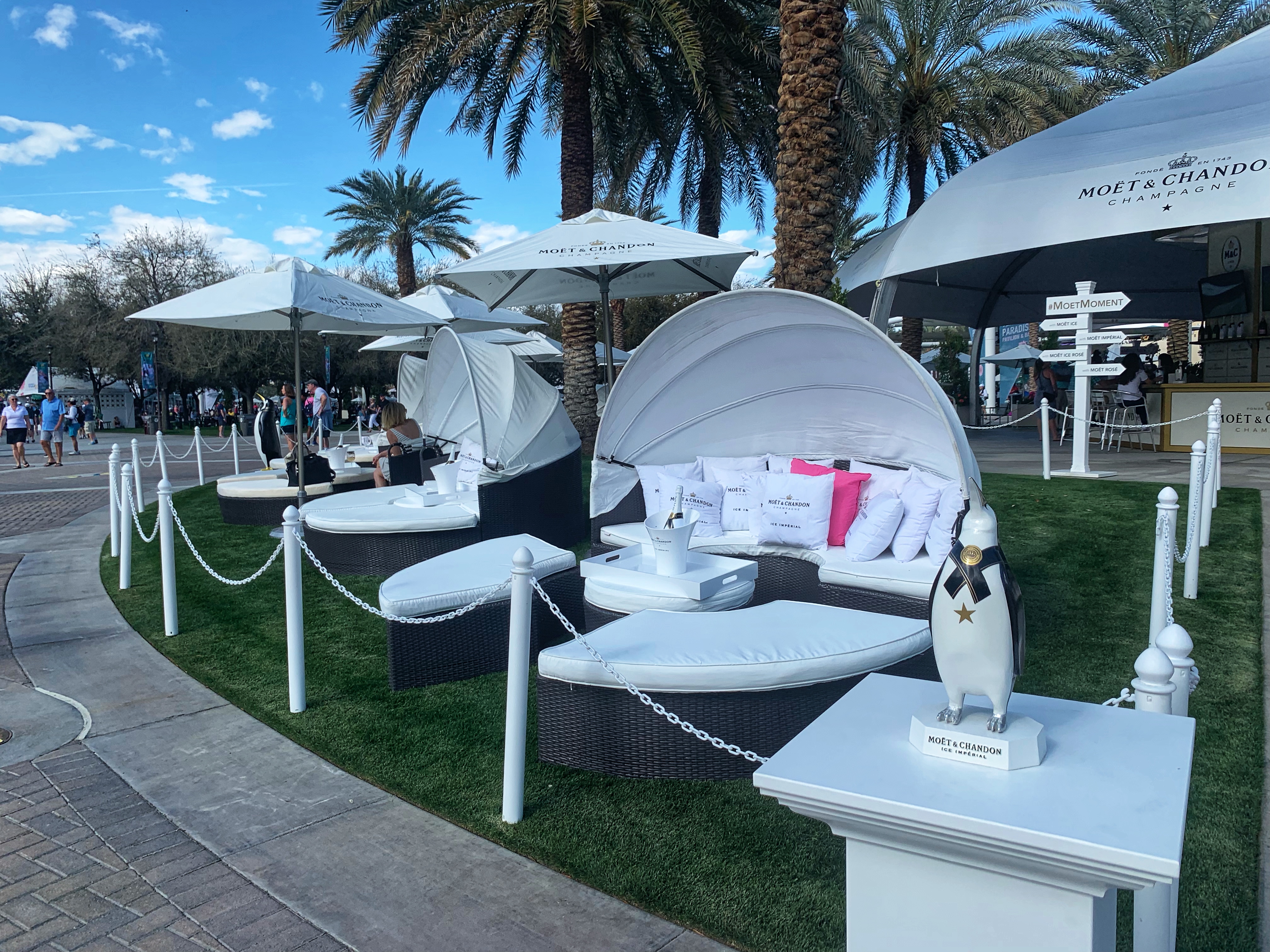 If you are just looking for a glass of champagne, those start at $27 – or you can go for their $26 specialty cocktail, the "Tennis Paradise,"  that mixes Moët Imperial, Volcano Blanco tequila, lime juice, honey syrup, and a flower to make it the perfect cocktail for a hot day and, perhaps more importantly for many, to post on The 'Gram.
Beer
Beer drinkers will mostly find Coors and Corona served up throughout The Indian Wells Tennis Gardens, including a large Corona Bar:
But, you kind find some other options if you look around a bit.
Ballast Point's Sculpin and Longfin Lager are available at a few spots, including the giant Sports Bar – where you can also order booze and wine (more on a that in a bit) and even play some pool if you so desire.
If you venture into the stadium, the lodge level offers up two specialty beer spots – including a Golden Road booth serving up Wold Pup (Session IPA) and Mango Cart (Wheat Ale) on draft, along with cans 329 Lager and Point the Way IPA.
The Golden Road spot is also serving French dips and hot dogs, because, well you gotta eat, my dude.
Also on the lodge level is a Shock Top booth, because sure, why not, I guess. You will find Shock Top and Bud Light here.
Rounding out your beer choices, you can find Modelo at B.S. Taqueria on the Lodge Level and Kirin outside stadium Two at Ko Gui.
All of the beer will run you between $10 and $14.
Cocktails
You will find three signature cocktails available at most of the Tennis Garden's bars:
The No Fault Margarita: Strawberry or lime in a collector's cup ($13)
Frozen Cadillac Margarita: Made with Grand Marnier ($15)
Stalk and Spice Bloody Mary: Also served in a collector's cup you will undoubtedly cherish forever ($13)
You can also order premium cocktails for $12 at most bars and the Sports Bar has a couple of extra specialty drinks: a Mint and Watermelon Lemonade made with Three Olives Vodka and a Rumchata Iced Coffee (both are $13).
Wine
They are serving up Kim Crawford wines throughout the Indian Wells Tennis Garden during the BNP Paribas Open – with Sauvignon Blanc, Chardonnay, and Pinot Noir available.
A glass of wine will set you back $14.
Please, always remember to drink responsibly.
Cheers and enjoy the BNP Paribas Open!