It's March Madness time again, aka the greatest time of the year!, and if you are looking to head out in Palm Springs and the Coachella Valley to watch the action, we have you covered with the best spots to watch the NCAA basketball tournament games – whether it's the first round, sweet 16, or finals -and all while having a beer and some food.
Listed in no particular order.  For more, be sure to check out our guide to the best sports bars in the Coachella Valley and our guide to drinking in the desert. 
Burgers & Beer
Why here: If you can't find a spot at the bar, almost every booth has its own TV so you can watch whatever game you want. They also have a big menu, plenty of drink options, and their beers are pretty reasonably priced.
Burgers & Beer, 72733 Dinah Shore Dr., Rancho Mirage / 79815 Highway 111, La Quinta
Beer Hunter
Why here: This La Quinta sports bar and restaurant has a plethora of TVs – making pretty much anywhere you sit a decent spot for watching the games (except for when the old people ask to put on golf instead).  They also have loads of beer options and their famous nachos.
Beer Hunter, 78483 California 111, La Quinta, CA
360 Sports Bar
Why here: Agua Caliente Casino Rancho Mirage has gone out and built themselves a hell of a place to watch all sports – including college basketball.  You will find state-of-the-art wraparound digital displays to check out all the action, a giant LED sports ticker, a full service bar which serves up food, and you can even try your luck with 16 bar top gambling games.
360 Sports Bar, Agua Caliente Casino, 32250 Bob Hope Drive, Rancho Mirage, (888) 999.1995
Stuft Pizza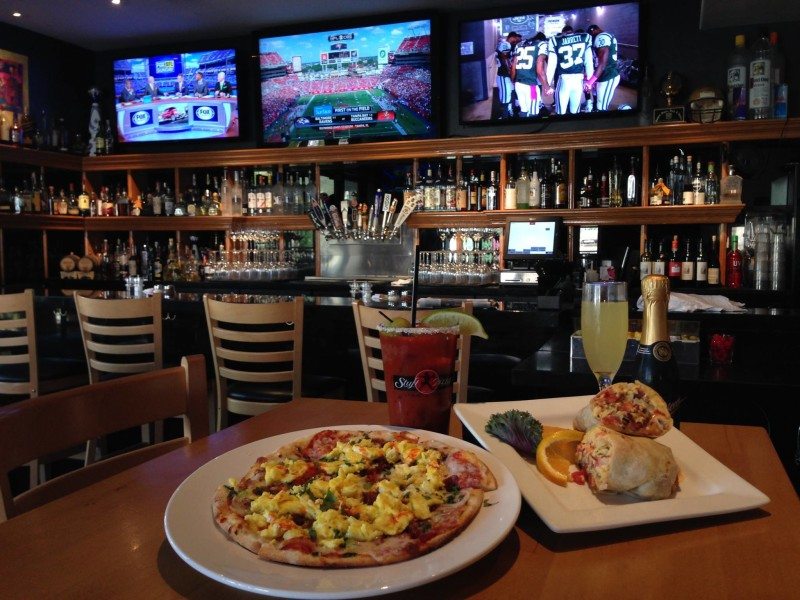 Why here: Plenty of televisions throughout the bar and restaurant and they have free WiFi, so you can check to see how your bracket is doing.  Throw in the fact that their Happy Hour is legit and you have a solid choice to watch the NCAA Tournament in both palm Desert and La Quinta.
Stuft Pizza, 78015 Main St #100, La Quinta / Westfield Mall, Palm Desert
Buffalo Wild Wings
Why here: Yeah, I know, it's a chain restaurant and the food is, ummm, meh.  But, they are loaded to the brim with TVs tuned into the March Madness games and they even have televisions in the bathrooms!!
Buffalo Wild Wings, 72-920 California 111, Palm Desert
Yardhouse
Why here: Lots of televisions to show all the games and oooooh so many beers to choose from plus a solid food menu, wine, and cocktails.
Yardhouse, 71800 California 111, Rancho Mirage
Enjoy March Madness in Palm Springs and the Coachella Valley