A Haunted House opened at the River in Rancho Mirage on Friday night and, well, it's pretty damn horrifying.
Parkwil Manor Presents: CarnEvil will be open in the space next to Babe's Bar-B-Que and Brewhouse on Wednesday through Sunday nights with a $10 admission from now through Halloween. You will know you have arrived when you are greeted by a very tall gentleman with an attitude.
From there you head inside where you are told that pretty much anything goes once you enter the maze – yes, the monsters inside can touch you and even pick you up and move you if they want – and if that's not your thing, you should go ahead and leave.  Keep in mind, you are also in-between Babe's and Acqua if you need some liquid courage.
If you're game, you enter the mouth of the clown.
Now, don't worry, I am not going to spill the details about what's inside the Haunted House, as I don't want to ruin the scary surprises. I will tell you this, the moment you enter is equal parts terrifying, hilarious, and surprising. Basically, if you have ever wanted to know what it feels like to be a newborn baby, this is your chance.  I would post a picture of this, but it's really not possible to even take one.
Once you pass the initial craziness, you see that the props inside the attraction are legit and gross and what the hell?
Seriously though…
C'mon!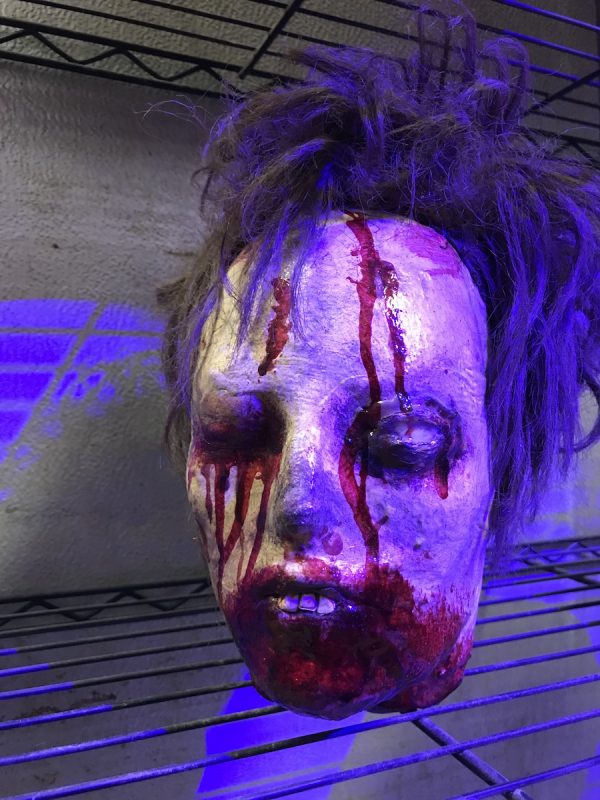 Oh, and the things you think aren't scary.  Well, they are!
There's also a crazy experience that involves 3-D glasses and I was not expecting an elevator that I would love to tell you about, but you should just go experience yourself unless this sign convinces you to get out!
The monsters (volunteers) are super into it and some of them have some pretty unique, pretty amazing, and pretty spooky skills.  Parkwil Manor has been terrifying people since 2007, learned from Hollywood studios and they do it all to raise money for charity.
All in all, for those who like a good haunted house, you probably won't be disappointed.
For more info on hours and location, check out the Parkwil Manor website.