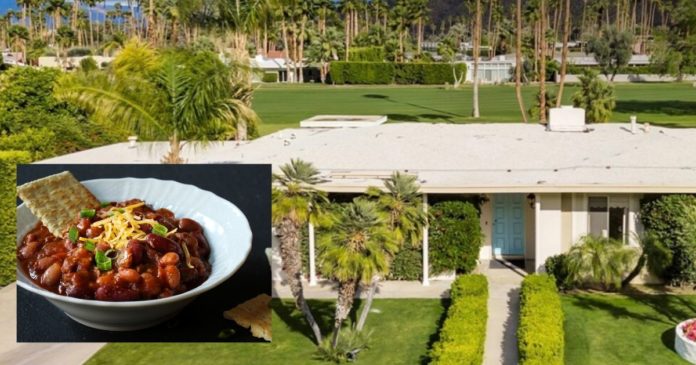 Those trying to sell a home are getting creative during the coronavirus pandemic. Some real estate agents are doing live-streamed tours of properties, while others are holding open houses on Facebook Live. In Palm Springs, one home currently for sale has promised a famous chili recipe to whoever throws down $1 million for the mid-century modern estate.
The house, located on the fifth fairway at Indian Canyons Golf Resort North Course, has four bedrooms, three baths, and a swimming pool. It also has a breakfast nook, an enclosed patio off of the master bedroom, and a nice kitchen for cooking, oh I don't know, something like chili? Speaking of which…
As the Press Enterprise reports, the home is owned by the family of restaurateurs behind the old Hollywood hangout Chasen's – which served up chili that was so in demand the story goes that Elizabeth Taylor once had 10 quarts of it shipped to her in Italy while on the set of "Cleopatra."
The recipe for Chasen's chili once appeared in a cookbook, but the real estate agent for the property,  Debra Parkinson of Keller Williams Realty, says that the one in that book "isn't the exact recipe."  I guess there's only one way to find out for sure, so someone throw down a million on the place and let us all know.
And for those thinking that maybe a million is too much for chili and a house, here's a clip of a LA reporter trying the chili in the final days of its operation back in 1995 and she seems to really enjoy it:
For those interested in the home, there will be a Virtual Open House of the place on Friday: