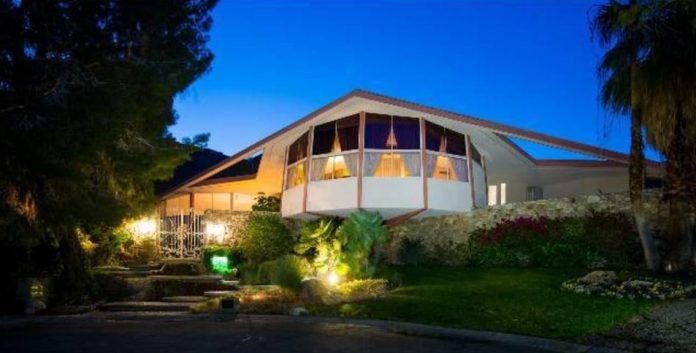 The infamous Elvis Honeymoon Hideaway in Palm Springs can be yours for a lot cheaper than it was last week.
The Palm Springs home was rented out by Elvis and Priscilla Presley after they got married in 1962. They paid a tiny bit more than $21,000 to lease the five bedroom estate in 1966 to spend their honeymoon there – but, getting your hands on the place is going to be a little more expensive than that.  However, it is listed for much cheaper than when it went on the market in 2014.
Listed in 2014 with a wildly ambitious $9.5 million price tag, the five bedroom home went back on the market last year for nearly $6 million. Last week, the asking price dropped to $4.995 million, according to Curbed LA.
Built in 1962 by Robert Alexander, the house on Ladera Circle was named Named "The House of Tomorrow" by Look Magazine upon completion, notes Dwell.
Here are some pics:
Check out the listing here.