Palm Springs and the Coachella Valley have a ton of great options for your eating and drinking pleasure. But, anyone who lives in or is visiting the desert owes it to themselves to eat and drink these 10 things – as they are not only some of the best things to eat and drink in Palm Springs, but they each also have a unique place in Coachella Valley culture. 
Bacon Flight | Cheeky's
There's a reason why this Palm Springs restaurant always has a wait for breakfast: it's delicious.  And the star of the show is the bacon flights.  Locals know this, Buzzfeed knows this, and you should know this too. The word is clearly out that this is one of the best spots to go out for breakfast in Palm Springs and Cheeky's changes up the flavors of the bacon slices all the time (and their menu every week), so every trip to the restaurant is an adventure.
Cheeky's, 622 N Palm Canyon Dr, Palm Springs, (760) 327-7595
Related: Where to get the best breakfast in Palm Springs 
Date Shake | Shield's
You come to Palm Springs, you have to head to Shield's Date Gardens in Indio to: a) have a Date Shake and, b) watch "The Romance and Sex Life of the Date" documentary that is, well, umm, just go watch because if had to, you have to!
As for the drink, sure, you've had milkshakes before, but you can't get a date shake just anywhere – and why not get it from the Date Capital of the World and take a selfie in front of their iconic sign?
Shield's Date Garden, 80225 CA-111, Indio, (760) 775-0902
Nachos | Arriola's Tortilleria
I almost didn't include this place as it's one of the Coachella Valley's best kept secrets and I didn't have to wait in line to get their amazing nachos, but then that would be depriving you of a visit to this Indio joint that makes their chips fresh and has some of the best nachos you will ever have and, whatever you do, save room for a tamale boat!
Arriola's Tortilleria, 82721 Wilson Ave, Indio, (760) 347-7782
Roast Prime Rib | Lord Fletcher's
Everyone should experience some old school Palm Springs and the best place to do that is at Lord Fletcher's in Rancho Mirage which still looks the same today as it did when it opened its doors 50 years ago.  You may remember this place from that time Anthony Bourdain stopped in with Josh Homme from Queens of the Stone Age – plus, Frank Sinatra loved this place, so, in his honor, get yourself a Jack Daniels on the rocks and the restaurant's specialty: the prime rib.
Lord Fletcher's, 70385 California Highway 111, Rancho Mirage, (760) 328-1161
Related: A list of all the restaurants featured on TV food shows
Bloody Mary | Sloane's
I mean, c'mon!  Look at that thing!!!  Seriously though.  That is one hell of a drink.  Plan on giving the staff of this Indio restaurant / bar about 30 minutes to prepare your Frankenmary as the 32oz. Bloodymary comes with a slider, 2 chicken wings, 2 cheese sticks, a grilled shrimp skewer,  celery, asparagus, bacon, and a a Slim Jim for you to snap into.  Plus Sloane's isn't too far from the Empire Polo Club – so you can have a hell of a warmup drink before heading into Coachella or Stagecoach.
Sloan's Restaurant, 81539 Highway 111, (760) 347-3923
Related: The best spots for Bloody Marys in Greater Palm Springs 
Brandini Bar | Brandini Toffee
Back in 2006, a couple of high schooler sophomores, Brandon and Leah, needed cash for a class trip to Europe.  To raise money, they started selling almond toffee.  Well, needless to say, they raised enough money for their trip, then returned a built a Coachella Valley toffee empire that's been featured on The Food Network, Martha Stewart's show, and one of Oprah's lists – which makes Brandini one of the Palm Springs area's best success stories.
You can grab toffee from Brandini – which is tasty, but you should definitely have a Brandini Bar with cold ice cream – which is perfect on those hot Palm Springs days.
Brandini Toffee, 42250 Bob Hope Dr., Rancho Mirage, (760) 200-1598 / 32 S. Palm Canyon Dr., Palm Springs, (760) 200-1598 / 48400 Seminole Dr Ste. C1, Cabazon, (760) 200-1598
Tacos | Crazy Coyote Tacos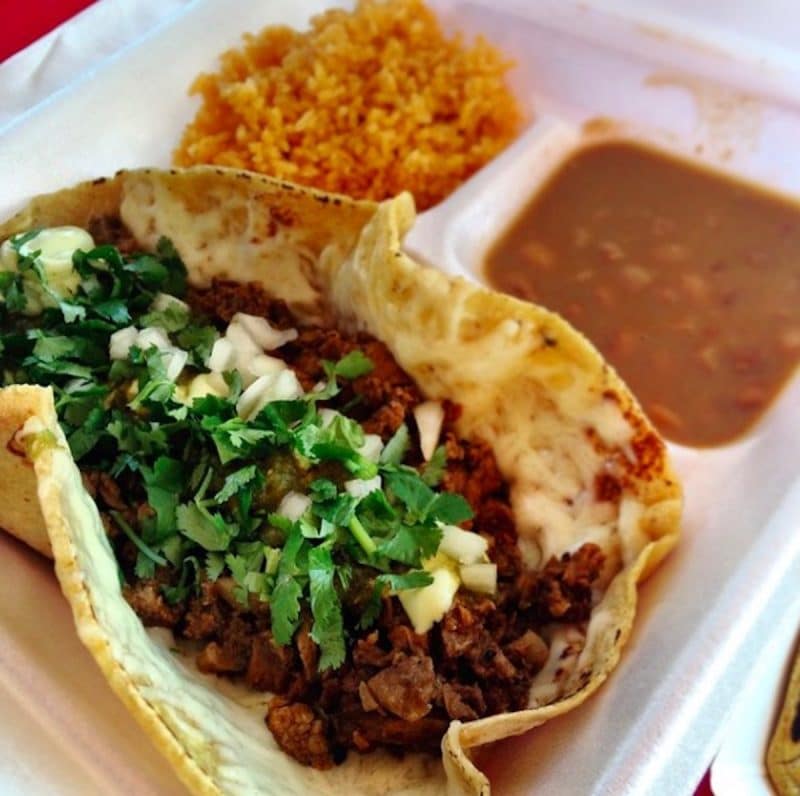 On your way into and out of Palm Springs you might see an unassuming brick building just past the Cabazon Outlets and Morongo Casino that looks more like a storage facility than a restaurant.  Don't be fooled!!  Pull of the 10 Freeway and order up some tacos from this joint (just DO NOT LOSE YOUR TICKET ONCE YOU ORDER OR THEY WON'T GIVE YOU YOUR FOOD!!).
Crazy Coyote Tacos has both regular and giant tacos to choose from. The regular has chicken or steak topped with cilantro, onions, and salsa. The giant (which is bigger – who would have guessed?) has all that but also comes with cheese and guac – so, yeah, go with those.
Crazy Coyote Tacos, 13033 Malki Road, Banning, (951) 849-2000
Mai Tai | Bootlegger Tiki
Palm Springs has its fair share of Tiki Bars and, while they can all be a blast, Bootlegger Tiki in the Palm Springs Art District really takes their drinks seriously and the star of the show is the Mai Tai. The space is great, as it's located in the original Don the Beachcomber restaurant that opened in the desert back in 1953 and has some awesome blowfish lights.
Bootlegger Tiki, 1101 N Palm Canyon Dr, Palm Springs, (760) 318-4154
Related: The best Happy Hours in Palm Springs, Palm Desert, and La Quinta
The Trump | TKB Bakery and Deli
Whoa.  Calm down, everyone.  This sandwich has nothing to do with politics, though it is making appetites great again #MAGA.  TKB Bakery and Deli in Indio has been ranking in the top restaurants in America for the last few years now (#1 in 2018) and this offering, not named after Donald, comes complete with Turkey, Salami, Bacon, Pepper Jack Cheese, Avocado, Mayonnaise, Mustard, Lettuce, Tomato, Onion, Jalapeño, Potato Chips, and Chipotle all on a Jalapeño Focaccia roll.  Whoa!
TKB Bakery and Deli, 44911 Golf Center Parkway, Indio, (760) 775-8330
Even Par IPA | LA Quinta Brewing Company
Over the last few years, La Quinta Brewing Company has grown into the Palm Springs area's biggest brewer.  They now have three locations where you can enjoy their tasty craft beer – including their signature Even Par IPA, which won Gold at the 2018 US Open Beer Championships.
La Quinta Brewing Company, 77917 Wildcat Dr, Palm Desert, (760) 200-2597 / 301 N. Palm Canyon Dr #100, Palm Springs, (760) 320-2597 / 78-065 Main St #100, La Quinta (760) 972-4251
Thanks for checking out where to eat and drink in Palm Springs and we hope you enjoy the Coachella Valley's essential food and beverage items!