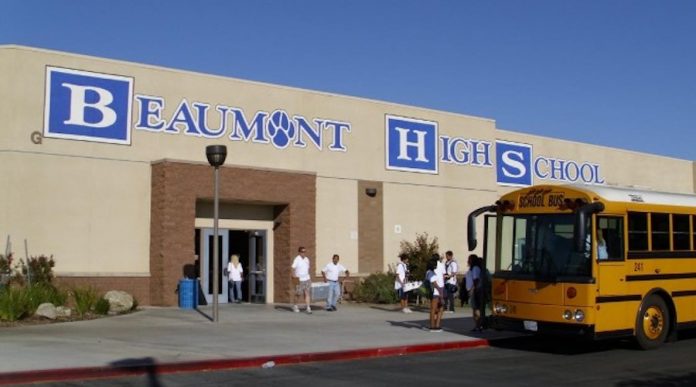 A 14-year-old student at Beaumont High School was arrested on Wednesday after police say he threatened the school would be "shot up."
Authorities were alerted to a message received by another student on social media about 8 pm on Tuesday, that warned of a planned shooting on campus the following day, according to Beaumont Police.
"As the only one I hope to leave alive, I warn you," the message said (via KESQ). "When you hear the fire alarm go off at 10:00 tomorrow, run and hide. The school will be shot up. The BHS school exits will be blocked off from the outside. You have been warned. Tell anyone about this message and you will be eliminated. Oh and stay away from the trashcans in the hallways."
Police arrested the teen for making criminal threats. No weapons after searching his house.
"The District takes any kind of threat seriously," Beaumont Unified School District said in a statement. "This is once again a reminder for all parents to monitor their children's social media and have a conversation about the seriousness of posting any kind of reference to violence or threats to schools. We encourage the entire school community to immediately report anything suspicious to law enforcement and not spread rumors via social media."