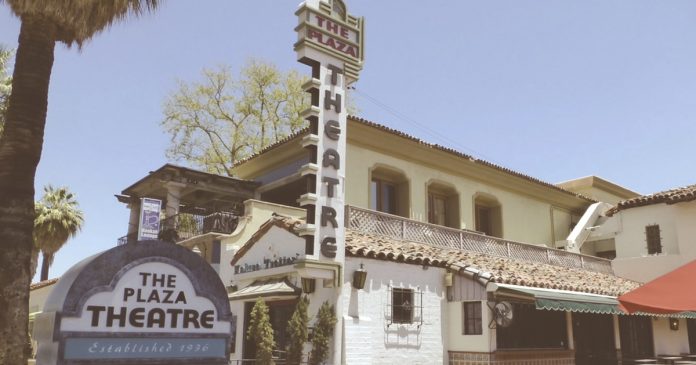 The city of Palm Springs is looking to the public in hopes of raising $10 to $12 million to help feed and house the city's homeless…nah, just kidding, they want to raise that cash to fix up the old Plaza Theatre in downtown Palm Springs. So far, the city has set up a web domain that forwards to a city page asking people to donate their cash to the cause. But, should anyone actually do it? Let's look at some pros and cons.
First a little history, the Plaza shut down five years ago after being open for nearly 80 years in downtown Palm Springs.  Since then, the building has been vacant and has fallen into disrepair.
Mayor Buzzkill told KESQ it would take $10 to $12 million to bring the thing back – and while the city is not looking to do it with taxpayer money (yet anyway), they are using city resources (like having city officials discuss on TV, having city staff collect donations, and a city webpage) to try to make the project happen.
Let's take a look at four reasons why it would make sense:
The building has a lot of history and comeback stories are always fun.
Your grandma has fond memories of seeing the Follies there.
It's in downtown and that's kind of fun.
And now let's look at four reasons it does not make sense:
The Coachella Valley has plenty of other theaters now.  I mean, have you seen a concert at The Show at Agua Caliente in Rancho Mirage?  That place is insane and deserves better acts that tribute bands.  There is also the McCallum, Fantasy Springs, Spotlight, that theater at the Cal State campus that exists for some reason, the Palm Springs Convention Center, the new theater at the old IMAX in Cathedral City, the Palm Canyon Theater, the Annenberg Theater, the Desert Ensemble Theater, plus a ton more I can't think of right now.
What the hell are they going to do there?  Please don't say the Follies.  Please don't say the Follies.  Please don't say the Follies.  I know Suzanne Somers wants to do something there and maybe some snowbirds would dig that, but is Palm Springs really that kind of town anymore?  It seems like more of a Splash House / Modernism Week / Desert X kind of a place now, yeah?
$12 million is probably going to be $20 million.  I mean, when has a big project that the city has been a part of come in on budget?  I would seriously love to see one where the final accounting matched or came in lower than the initial estimate.
If it was a profitable venture, a developer would come in and do it without donations.  The fact that no one is doing that is pretty telling.
So yeah, some things to consider.  What do you think?  Should we all fork over some cash to bring back the Plaza Theater?  Let's discuss in the comments.