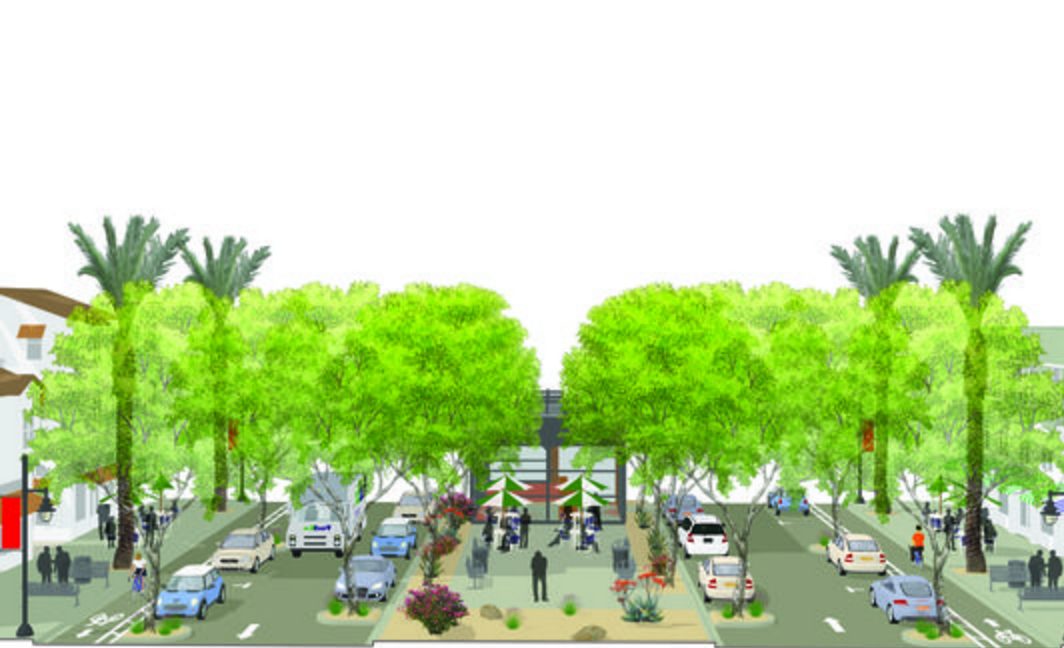 Brace yourself, because one of the Coachella Valley's most uppity cities is doing something that may be: a) cool, b) forward thinking, and, most surprisingly c) not completely pandering to snowbirds.
The city of Palm Desert – home to El Paseo, Bighorn, and Fashion Week –  is looking at reducing lanes on San Pablo Avenue between Highway 111 and Fred Waring and making it more pedestrian friendly – with sidewalks, bicycle lanes, and street parking, according to the Desert Sun.
Now while some cities – *cough* Cathedral City *cough* – have done this with a main artery, Palm Desert is doing it with a side street in order to make it more of a destination, rather than just a couple of thrift stores, a rad Italian deli, and a Circle K. I mean look at that pic, it looks like a real city!
The city is going to give a sneak peak of how it will look from May 2 – 13 by placing traffic control devices and boxed trees on the road. On May 7th, there will be an event that will feature live music, food, and a beer garden on the street.
Not sure that a "preview" is really necessary, but if Palm Desert wants to shell out $13,000 on an event that lets me drink beer in the middle of the road, so be it.
And get this, the whole thing is really being done with young people, a.k.a. non-snowbirds in mind.
"This is what we're trying to project in the General Plan, is that San Pablo will be something for the millennial group that we're trying to attract," Councilman Van Tanner told the Desert Sun.