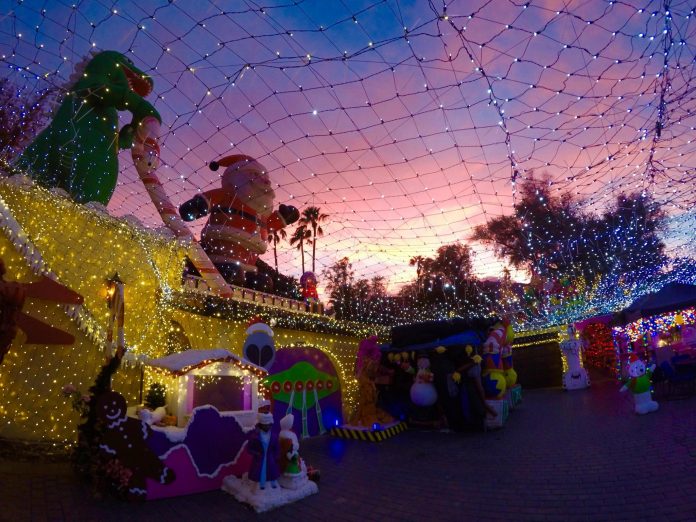 Robolights, the truly freakin' weird Holiday Light installation that takes place at a Palm Springs residence every Christmas Season, looks like it will go on in 2018 – but the display will almost assuredly be in a different location next year.
Robolights two (!) attorneys, Dayton Parcells and Ben Mehdian, have been working with city officials to make a deal to open up the attraction Wednesday night through the New Year, according to the Desert Sun.
The agreement Parcells and Mehdian expect to be signed will stipulate that this year will be the last time Robolights will be permitted to open to the public in its current location, as long as next year's exhibit takes place somewhere else at a commercial location.

Parcells and Mehdian said that the city's attorney is willing to lift a requirement that visitors use a shuttle bus to get to Robolights, a regulation the city council had announced at a tense community meeting on Oct. 24. Kenny Irwin Jr., the creator of the exhibit, is still required to pay for traffic control, manage trash and abide by all the other regulations that applied to Robolights 2017.

"Anyone who wants to see Robolights as it has existed for the last 30 years has to come out this year," Parcells said. "We are in discussions about making a new exhibit in a new place."
All those involved are still working on the details for this year's event, that is expected to light up Wednesday night in Palm Springs.
As for where in 2019 artist Kenny Irwin will lug all of his Santas made of old vacuum cleaners and alien-elf things created out of busted microwaves is an issue that can be worked out later.
Just a suggestion: somewhere other than Palm Springs would probably be best as the city just seems like a pain in the ass for just about everything that doesn't involve turning every home into a vacation rental or hotels built with the help of alleged bribes.
If you are headed out to RoboLights here is our guide.