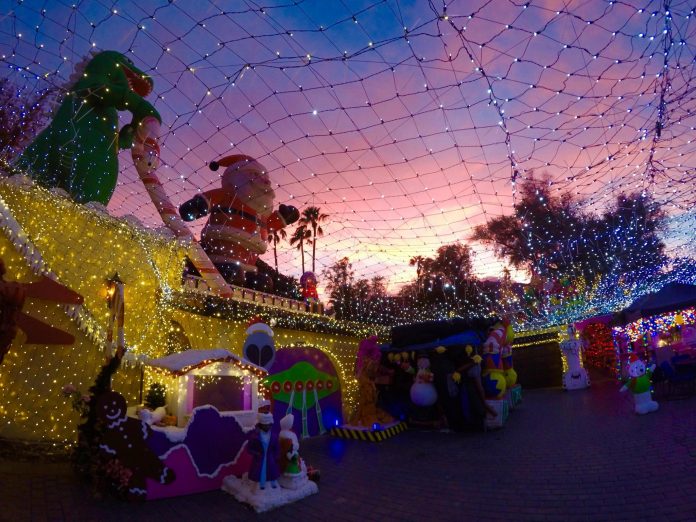 Robolights, the only holiday light display you will see this year built with old toilets and microwaves, will begin lighting up this year on Thanksgiving night. Unlike previous years, you will not be able to walk through the property – as the city of Palm Springs has deemed it unsafe for visitors.
The home of Kenny Irwin, the artist behind the unique display, was inspected in May and 10 violations were found – including stagnant water in an above-ground pond and extensive use of extension cords, reports the Desert Sun.
Irwin has fixed most of those according to the city, but there were still two serious violations that had not been resolved on the property.
"We've been trying to work with Mr. Irwin, but I think we're getting down to very short strokes," city attorney Doug Holland told the newspaper. "He usually likes to open this during the Thanksgiving weekend, but it doesn't look like that will happen."
The city says in order for Irwin to open up the property he would need to give the city plans for rooftop structures and undergo a permit and inspection process.
Irwin had already announced the opening of RoboLights on Facebook this week, saying that the display was dedicated to his father, who recently passed away:
"My main intention is to provide people with immense pleasure through the work that I do," Irwin told the LA Times in 2015. "There's not really any deep meaning in my art. It's basically for the whimsy of it."
The attorney for Irwin, Dayton Parcells, says that they had not heard from the city and that they will seek an injunction if the city blocks access to the property.