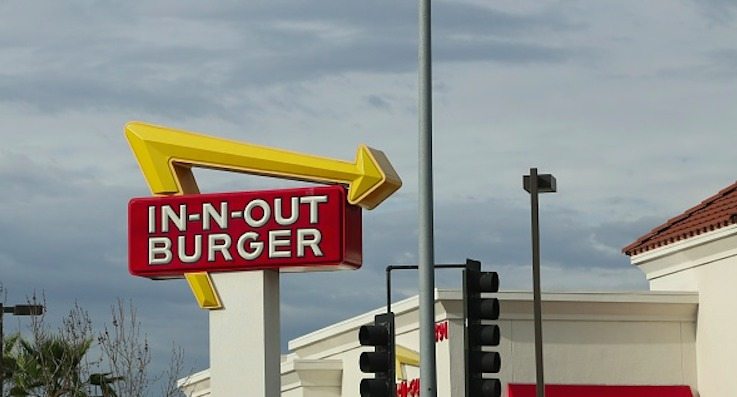 There has been quite a bit of turmoil this past week in Rancho Mirage as residents have been showing up in droves to city meetings and writing scathing letters to the newspaper in an effort to stop a planned In-N-Out Burger that would be built on Highway 111. Residents have proclaimed the burger joint would bring crime and noise to the area.  And while residents may like that the area is currently a total snoozer, if the city doesn't do something quick, Rancho Mirage may just end up a ghost town.
Currently, the Highway 111 section of Rancho Mirage is comprised mostly of a bunch of consignment stores, a few auto dealers, a "restaurant row" catering mostly to the elders, and the River at Rancho Mirage – a complex where anchor restaurants like Yard House and Cheesecake Factory appear to be doing okay, but with the rest of the center seeing closing after closing after closing.  The center's movie theater, which was once the nicest theater in the valley, has seen other theaters around the desert make upgrades and catch up and, well, it's not like people are going to the movies like they used to.
So what's a city to do?  Well, welcoming an In-N-Out Burger and its legions of fans to the area might be a good start in bringing people who spend money to the area.  Other cities like Palm Springs and Cathedral City have been trying to lure In-N-Out for years – and, if they were smart, they would be reminding the In-N-Out bosses about now how much easier it would surely be to build in their cities than Rancho Mirage.
And sure, it's easy just to focus on enticing people to come to Rancho Mirage and spend money, but let us not forget, In-N-Out Burger is one of the few fast food joints out there that will actually bring some pretty good paying jobs with it.
Clearly, the city of Rancho Mirage realizes that they need an In-N-Out Burger and, should the vocal opponents succeed in pushing the burger chain away, it will become even harder for the area to land any future businesses that might inject some much needed life in the area and attract anyone under the age of 70 to the city.
Bottom line: Rancho Mirage needs an In-N-Out Burger much more than In-N-Out Burger needs Rancho Mirage.