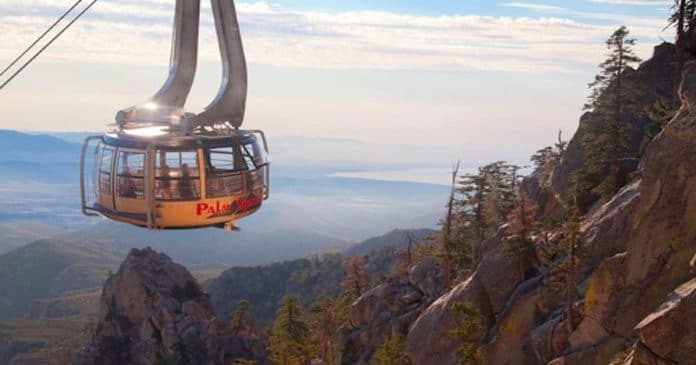 Whether you live in Palm Springs or are just visiting, a trip on the Palm Springs Tram can be a cool thing…literally. The temperature up in the mountains is 30 – 40 degrees cooler than the desert floor of the Coachella Valley – which is a great way to cool off in the summer and in the winter, hey, there might just be snow! And you can do it in just 12 minutes with a ride in a nifty spinning tram car. So what should you know about the Palm Springs Aerial Tramway? Well, here is all the info, tips, tricks, and more you need to know.
What is the Palm Springs Tram?
The simple answer is that the Palm Springs Aerial Tramway is the largest rotating aerial tramway in the world, but it's really a lot more than that.
Related: How to save money on your Palm Springs Tram passes.
Related: You can bring your own food up the Palm Springs Tram!
At it's core, the tram is two passenger cars that take passengers up and down a ride from 2,643 feet up to 8,516 feet. The floor of the car spins two full rotations on your ride up, so don't worry about getting a place "up front" if you want to get the best views going up the mountain.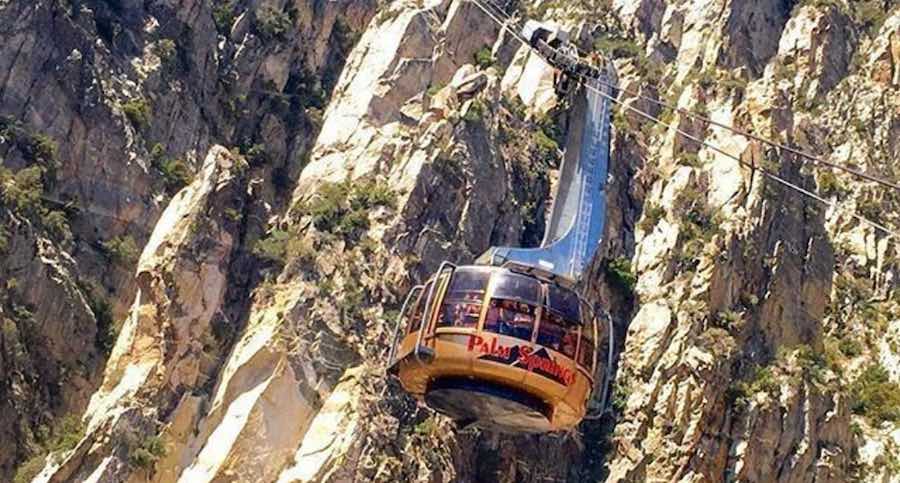 The ride itself is kind of hokey, with muzak accompanied by a recorded message with a guy listing birds and animals you might see on the trails, if you should choose to take in a hike (which you should).
Tram cars can get a little crowded, especially during busier times, so get ready to have you personal space invaded and, if you have a backpack, they will make you put it on the floor, so everyone has more room.
Your ride up is mostly a smooth experience, but there is a bit of swaying when the tram car reaches each of the five towers. It's nothing major, but you might want to grab hold of the railing just in case, especially for the third tower of the Palm Springs Tramway, which has the biggest swing.
Some of the tram operators are better than others. A few will tell jokes or even play good music on your trip (I once had one get everyone to sing along to "Sweet Caroline" on the way down). These are the best operators. There are also, unfortunately, other operators who push a button and then look at the phone the whole time. I have no control over this.
The ride up and down is just the beginning, as there is plenty to do up at the top of the mountain. But more on that a bit further below.
Where is it?
This might surprise you, but the Palm Springs Aerial Tramway is located on 1 Tram Way in Palm Springs (Tram Way, you see what they did there?).  It's on the north end of town, with the Tram Way being about 10 minutes north of downtown Palm Springs (for those staying further east, the Palm Springs Tram is about 30 minutes away from Palm Desert and about 45 minutes to an hour away from Indio and Coachella).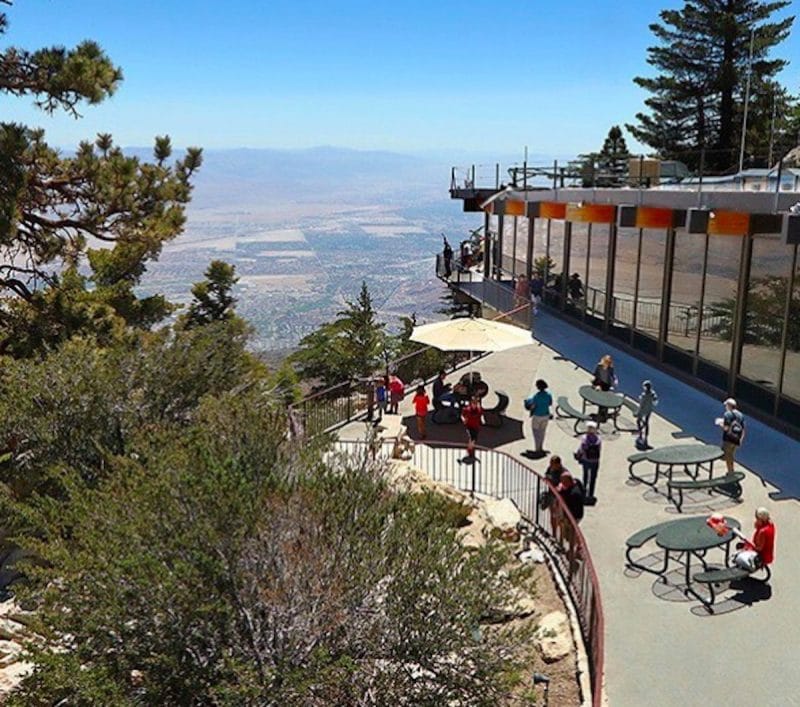 Tram Way is a bear of a road that's about a 6k with a 2,200-foot rise in elevation.  If you're looking for a workout, sure, this is your road to walk up on foot.  If you are on vacation, be sure to take a car or an Uber to the tram (and $8 to park, unless you are a local or a season pass holder, then it's free).
The main parking lot is on a big 'ol slope, so get ready to burn a few calories on your way in (and you may want to drop grandma off a the top before parking).  The main lot fills up quick in the morning.  From there, they will direct you into other lots where a shuttle picks you up and takes you back.
When is the Best Time to Ride the Palm Springs Aerial Tramway?
Ahhh, yes.  I get this question submitted to Cactus Hugs all the time.  While the Palm Springs Tram doesn't have any official information on this, I have been up over 100 times in the last few years and have noticed a few things:
It gets packed on holidays: if you plan on going on Memorial Day Weekend or during the week between Christmas and New Year's holidays, buy your tickets in advance to guarantee your spot and be prepared to wait a bit when it's your time to come back down – as they can only take so many people back down at a time.  Seriously though, I have seen wait times of 3+ hours on Christmas, so plan wisely.
Speaking of coming back down, most people see the sun start to set and head toward the exits. If you don't want to wait, head down before then or plan on waiting a bit after the sun sets.
As far as going up, there is usually a decent crowd of hikers and campers first thing in the morning on weekend, then it slows up a bit until about 11 am, when it starts to get crowded again.  Things start to tail off a bit about 4 or 5 in the afternoon.  '
Weekdays are usually less crowded than weekends – which makes sense because, you know, people work and stuff – with Tuesday through Thursday being your best bets to miss the crowds.
We get a little bit more into some things to know about when to go, what to bring, etc. here.
What Can I do When I Get to the Top of the Mountain?
If you are just planning on staying at the Mountain Station, there are a few things you can do from taking in the views off the deck of the building, watching one of the documentaries they show in one of the tram's two "theaters," or grabbing an expensive drink at the bar, some cafeteria-style food at Pines Cafe (pizza, sandwiches, chips), or a sit down dinner at Pines Cafe – which you can do a ride and dine deal for after 4 pm.
Ahh, but here's why you will be glad you clicked on this post because you have another food option that you are really going to like – which is in the tips section just a tad bit below.
For those who are willing to venture out from the Mountain Station, you will first be exposed to the ramp from hell.  It's not so bad going down, but coming back up after a long hike is always super fun.  But it's still worth it as the views and the hiking are totally worth it, just be sure to wear the right shoes.
There are quite a few hikes for all types at the top of the tram – whether you are looking to get some rad views of the Coachella Valley or hike to Idyllwild or the San Jacinto Peak.
For those planning on doing some hiking, we have much more info on that for you here.
What Are Some Tips and Tricks I Should Know?
Oh yeah, the money portion of this post about the Palm Springs Tram. Here we go:
You can get tram passes at a discount.  No.  Seriously.  It's true.  We have all the info you need to know about that here.
YOU CAN BRING YOUR OWN FOOD AND DRINKS!  No seriously, this is a thing.  Bring a small ice chest up filled with some tasty sandwiches from one of Palm Springs finest delis along with some water and some beer or wine and enjoy it on the patio.  Doing a hike first, you can store that cooler in a locker for a couple of bucks.
Planning on going up a few times?  Get a season pass.  The summer pass will run you $80, which basically pays for itself if you go up more than three times, which you can easily do during the hot Coachella Valley summer when it's so much nice in the mountains.
Cell service is bad at both the Valley Station and the Mountain Station, but they have Wifi – and it's free!
Have additional tips to share?  We would love to see them in the comments below. For more info about the Palm Springs Tram, check out their official website.
Have fun on your trip on the Palm Springs Tram!