March in Palm Springs and the Coachella Valley is a busy time and of course it is!  The weather is usually rad, there is a ton of stuff going on in the desert and, well, let's just get right to it, shall we.
Toni Braxton | March 1
The "Unbreak My Heart" singer performs an 8pm show The Show at Agua Caliente Casino in Rancho Mirage. Tickets are $55 to $78.
Get more info here.
Stomp | March 1 & 2
The international percussion sensation makes a stop into Palm Desert with an eight-member troupe uses everything drums including matchboxes, wooden poles, brooms, garbage cans, Zippo lighters, hubcaps, and whatever else they can find.  Tickets start at $40.
Get more info here.
Desert X | All Month
The free Desert X art experience continues throughout the month of March (and into April) all around the Coachella Valley from Palm Springs to Palm Desert to Desert Hot Springs to Indio to the Salton Sea and all spots in between.
We have a full map of where to go and much more for you here.
Wildflower Festival | March 2
All that rain that's been falling in the Coachella Valley sure has things looking like its going to be a Super Bloom this year.  And those wildflowers bloom and transform the Coachella Valley into a colorful canvas. The Coachella Valley Wildflower Festival, which this year, thanks to the Trump shutdown, will be held at a different location, the Palm Desert Civic Center Park. The event includes viewing of the wildflowers plus art, a kids zone, a 5k fun run, and guided hikes. There's also a beer and wine garden! Admission is free.
Get more info here.
Jerry Seinfeld | March 2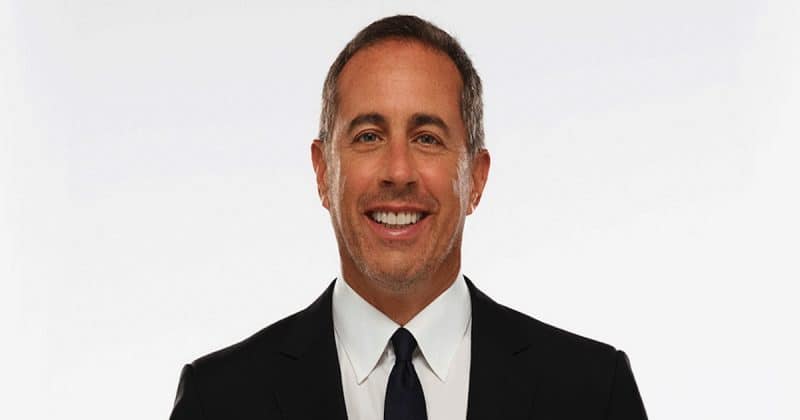 The comedian who had a slightly successful sitcom in the 90s that now allows him a chance to ride around all day in cars while sippin' coffee with comics performs at Agua Caliente Casino in Rancho Mirage.  The show is sold out, but there are some tickets available at Stub Hub.
Get more info here.
La Quinta Arts Festival | Mar 7 – 10
The annual fest is back at the La Quinta Civic Center Campus. 220 contemporary artists will be on hand showing and selling their paintings, sculptures, jewelry, and more.  Plus there  is live music, food, beer and wine, and more. Tickets start at $17.
Get more info here.
BNP Paribas Open | March 4 – 17
One of the biggest tennis tournaments in the world takes place in Indian Wells over two weeks in March. The event combines the ATP World Tour Masters 1000 and WTA Tour Premier and features the top men and women professional tennis players. It's the largest tournament in the world after the four Grand Slams.
We have a much more detailed guide to everything you need to know about the tennis tournament here. 
Coachella Food Truck Park March 8 – 10, 15 – 17, & 22 – 24
Food trucks, live music, artists, and vendors will be on hand for three straight weekends in March.  Getting in is free (the food will cost you) and the park will be open Friday – Sunday from 10 am to 8 pm.
Get more info here.
Spamalot | March 15 – 17
The winner of the 2005 Tony Award for Best Musical, Monty Python's Spamalot is the outrageous musical comedy lovingly ripped off from the film classic "Monty Python and The Holy Grail." The show includes everything from flying cows to killer rabbits to taunting Frenchmen.  Tickets start at $65.
Get more info here.
Flogging Molly | March 16
Get in the St. Patrick's Day spirit a day early with a performance by Flogging Molly in Cabazon.  Show tickets start at $45.
Get more info here.
St. Patrick's Day – March 17
Beer.  Beer.  Whisky.  Beer.  And did I say beer?
We have an updating rundown of what's happening for St. Paddy's in the desert here.
Fashion Week | March 16 – 23
It's the one week a year you will find people on El Paseo after 7 pm. No seriously. The week includes runway shows, trunk shows, and in-store events. It's really all just kind of a weird, hoity-toity thing for a small group of people who go to every event, but then there's also a couple of days featuring food and wine, so it has that going for it.
Get more info here.
The Illusionists | March 29
They've played around the country and on Broadway and they are making a stop into the Special Events Center in Indio.  Full of hilarious magic tricks, death-defying stunts and acts of breathtaking wonder, The Illusionists includes six magic acts for a night of prestidigitation.  Tickets start at $29.
Get more info here.
Rob Lowe – March 29
The actor is literally coming to the McCallum Theater for his one-man show Stories I Only Tell My Friends: LIVE!  In the Show, Lowe discusses fatherhood, marriage, and a life lived at the forefront of culture for four decades.
Get more info here.