UpTV (which is a TV channel that no one knew about) has a made-for TV Holiday film cleverly titled "Christmas in Palm Springs" (guess you can't figure out where the movie is set?) debuting on November 23rd. Now when one thinks of holiday movies, one thinks of snow and carolers and fireplaces – but, grant money, waived permit fees, and tax incentives the script was written for a town that has none of that.
This is confusing for many, including whoever made the snowflake-filled logo for the film…
Watching the trailer (bottom of this page), you first are excited about the movie as one of the first actors (and maybe the only one you have heard of) Ian Ziering shows up on screen…
…but alas, there are no sharknados that follow – so it is all downhill from there.
The story appears to be just not very good: out of touch dad takes his family to Palm Springs where he becomes more out of touch with the family until an old-timer sets him straight just in time for Jesus to smile on his birthday. Oh yeah, also a guy gets punched at what looks like The Saguaro pool…
There is also some nice product placement images of Palm Springs including the sign…
…windmills…
…and the Palm Springs Christmas Tree.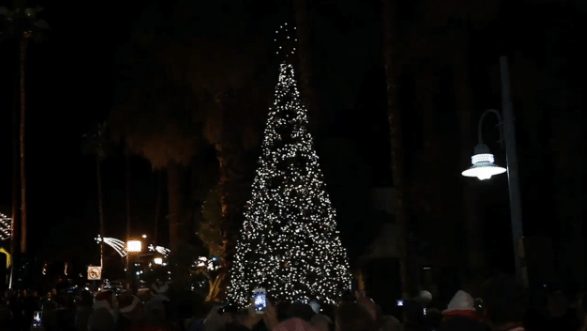 So, if you can find the channel, maybe just watching for local stuff will make the movie not completely terrible – though you will have to survive lines like…