Your whole life, you have asked yourself (and many a fast food cashier), "why can't Mickey D's make me a goddam Egg McMuffin at 10:31 am?!?"
Well, ask no more – as today marks the first day of McDonald's all-day breakfast menu.  But, be warned: the all-day breakfast menu does not include everything.
"Depending on the local market, All Day Breakfast will have a limited menu that focuses on either McMuffin or Biscuit items," the fine print on McDonald's website reads – because what we really need is a nation further divided.
And by the looks of it, California is a McMuffin state.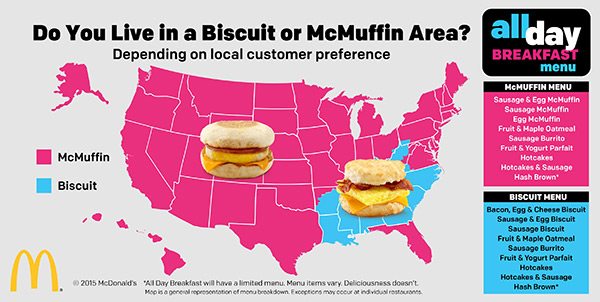 The McMuffin menu includes:
Egg McMuffin
Sausage McMuffin with Egg
Sausage McMuffin
Hotcakes with Sausage
Hotcakes
Sausage Burrito
Fruit 'N Yogurt Parfait
Fruit & Maple Oatmeal
Hash Browns (at some restaurants)
And that is fine because: english muffin > biscuit….but wait a second!  Hash Browns only at some restaurants?!?!  What the hell Ronald?
Eh, whatever.  You know, now that it it not forbidden anymore, McDonald's breakfast just sounds gross after 10:30 a.m. – maybe it is best if we just go grab a Burger King Green Poop Maker instead.