El Paseo has a new spot for food and cocktails as Kitchen 86 has opened its doors.
Located in the spot that previously Wolfgang Puck's place on the west end of El Paseo, Kitchen 86 calls itself a "Modern Eclectic Small Plate Restaurant."  The restaurant opened its doors quietly at the end of February and is now open for lunch and dinner daily.  Plus the place stays open until 2 am (including the kitchen!) every night, which is pretty unique to the area and I'm sure a welcome sight for any late-night diners or those in the industry looking for a place to hang out after the dinner shift.
My wife and I recently stopped in for a couple of cocktails (a Sazerac and rosemary infused tequila drink) and a small pizza.  Everything was pretty good – but that all came in (after tip) at just over $50 because, well, El Paseo gotta be El Paseo, I suppose.
Kitchen 86 is currently serving up appetizers, wood-fired pizzas, and main courses including a burger, curry, and short ribs served with polenta. Here's the menu (with the items in the boxes currently available and the items not in a box "coming soon," according to our server.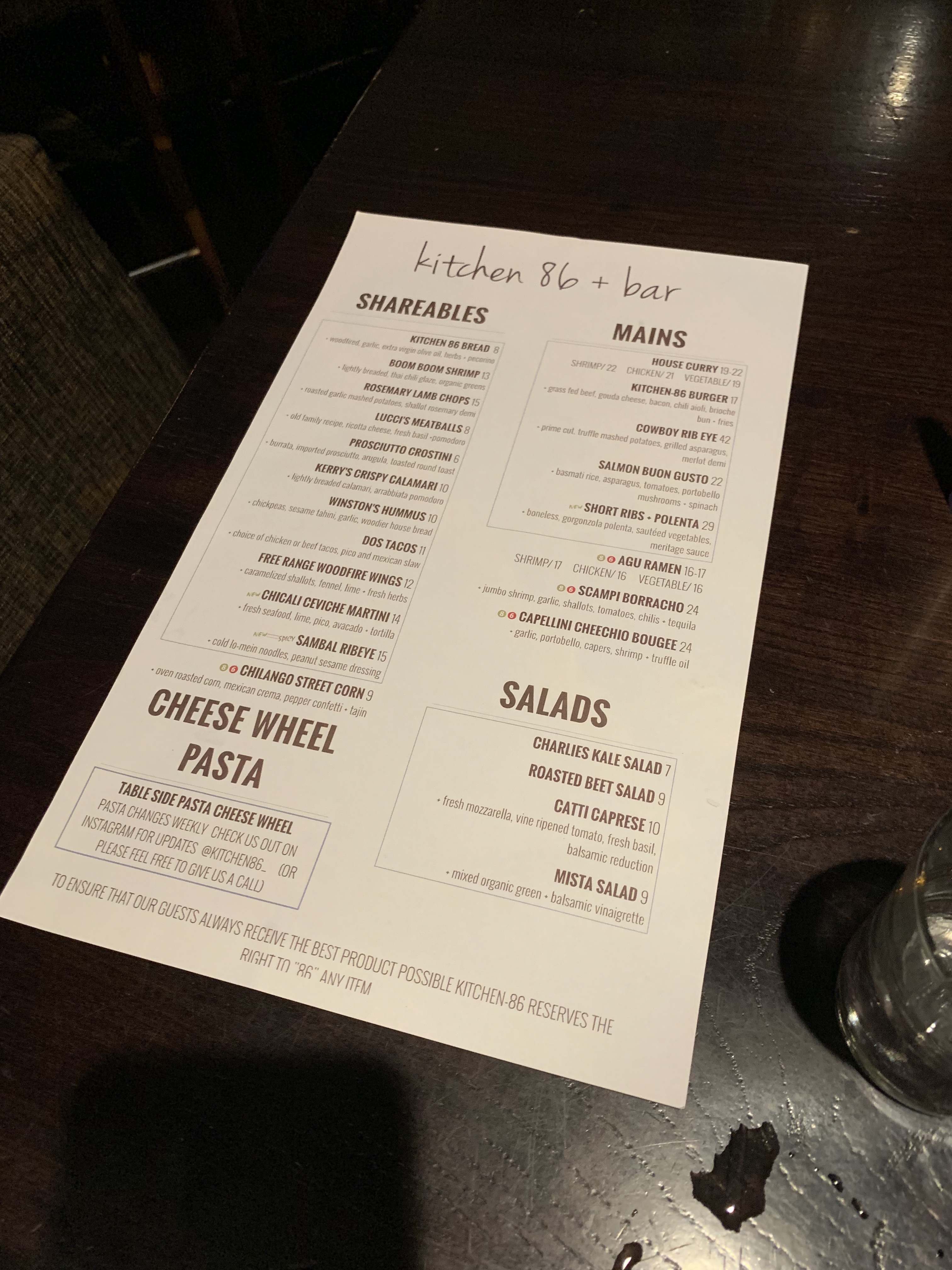 One item you may notice on the menu is Kitchen 86's "Table Side Pasta Cheese Wheel" – which is different every week and wheeled right to your table.
For a new place, the service at Kitchen 86 was pretty good and there was a decent sized crowd there for a Saturday night.
If you go: Kitchen 86, 73-130 El Paseo Suite I, Palm Desert, (760) 890-1586 | Mon – Sun: 11:00 am – 2:00 am (!)