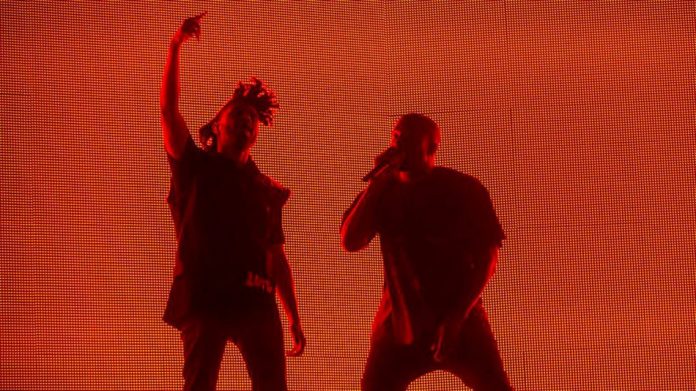 Coachella attendees were treated to a surprised late Saturday night.
Rapper Kanye West took the stage during The Weekend's set and immediately social media went crazy.
Mr. @KanyeWest surprised #Coachella fans by joining @TheWeeknd on a track and then performing:

1) I Don't Like
2) Black Skinhead
3) All Day

— Brian A. Hernandez (@BAHjournalist) April 19, 2015
The Weeknd brought out Kanye West at #Coachella http://t.co/5dKpJ9b74V

— Complex UK (@complex_uk) April 19, 2015
KANYE AND THE WEEKND OMFGGGGGG I CANT BELIEVE THIS IT WAS SOOOO AMAZING pic.twitter.com/j5OxbLE6k7

— bri (@morguestyles) April 19, 2015
OH OKAY. Kanye west comes out during The Weeknd. BYE I WIN. #bestnightever #coachella

— Samantha Altamura (@SamAltamura) April 19, 2015
ANOTHER VIDEO OF ABEL WITH KANYE AND ON STAGE AT COACHELLA YOUNG GODS pic.twitter.com/H8kfTu7ASQ

— LA FLAME DON JUAN ???? (@tesfayetrilogy) April 19, 2015
Kanye West surprises everyone at #coachella!!! https://t.co/GHETdRW8aw

— Tommy Monks (@tommymonks727) April 19, 2015
U GUYS KANYE CAME OUT DURING THE WEEKND'S SET UR KIDDING pic.twitter.com/OB7uMHgOJW

— sades (@soapyfosty) April 19, 2015
You're my favorite kind of night pic.twitter.com/CgHyhwSSVp

— Coachella (@coachella) April 19, 2015
Crowd videos of the performance:
https://www.youtube.com/watch?v=gTu5hsIYL28

West had last performed at Coachella in 2011.