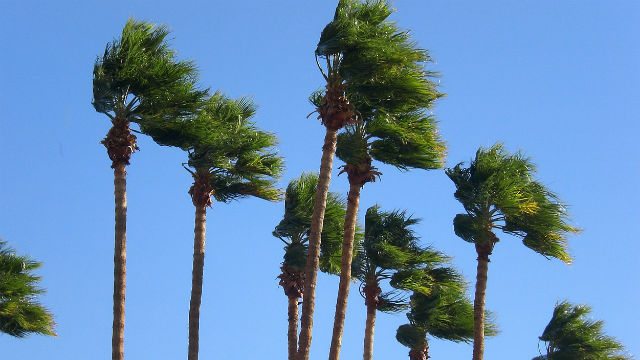 Strong winds have been whipping through the Coachella Valley Wednesday night.  As KMIR's Mike Everett notes, some gusts in the pass have reached 71 miles per hour.
NWS San Diego issuing some first numbers from tonight's wind and they're impressive! All between 4-6 PM this evening. Wind Advisory in place along with a Blowing Dust Advisory in San Bernardino Co until 10 PM. Volcan Mtn is in San DIego Co – the rest are in the Coachella Valley. pic.twitter.com/wj67IsQV9B

— Mike Everett Weather (@WxMikeEverett) December 21, 2017
The rest of the area is seeing wind whipping in at 30 – 50 mph.  There are also reports of zero visibility conditions on the freeway.  So be safe.
Blowing Dust & Sand Advisory issued for #CoachellaValley and all desert areas until midnight. Travel will be hazardous through the deserts this evening, be alert! We have received two reports of ZERO visibility in these areas due to blowing dust/sand. #CAwx pic.twitter.com/iwAtibHFvK

— NWS San Diego (@NWSSanDiego) December 21, 2017
This is, of course, also causing chaos in the Walmart parking lot.
The cold front is here! Blowing sand and grocery carts in front of Walmart in Rancho Mirage. The parking lot lights even go out for a moment toward the end of this video, but that may not be wind related…simply adds to the eerie energy! ???? ???? pic.twitter.com/MQvvz6fOJK

— Kelley Moody (@KelleyMoodyCBS2) December 21, 2017
How are things where you are?
Related: This is why it gets so damn windy in the Greater Palm Springs area.