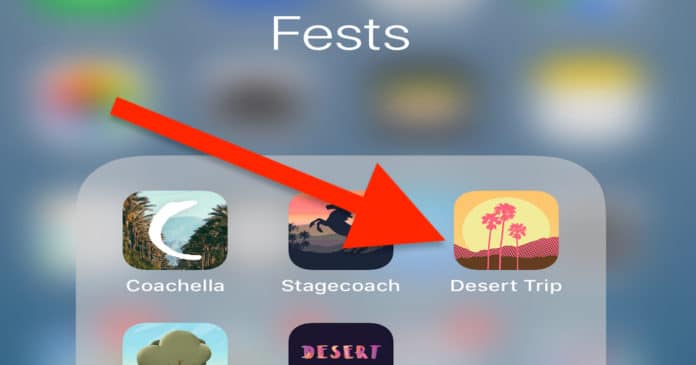 If you're like me, you have a lot of apps on your phone that you never use. But, you keep them anyway – and why not? Maybe you'll take up Angry Birds again sometime soon and I guess Apple put that Reminder app there for a reason, even though no one ever uses it. I have one app in particular, the Desert Trip festival app, that I was reminded of during last month's Coachella and Stagecoach fests.  It first brought a smile to my face sitting there next to the apps for the other fests.  But, that was short-lived and soon I was sad because it really seems like the Desert Trip music festival that was billed as a "once in a lifetime experience" really was just that.
I had a moment when I was at Stagecoach at the Empire Polo Club, home of the October 2016 Desert Trip festival, when I hoped that by opening the app, I would see a whole new lineup for this fall that was, I guess, mistakingly uploaded to the app early. That, of course, didn't happen.
Nope. Instead it was just memories of The Rolling Stones, Paul McCartney, The Who, Neil Young, Bob Dylan, and the half elders leaving early because they were pissed off at Roger Waters.
Once in a lifetime indeed.
Many of us had hoped that Desert Trip, in some way, would return – with a popular April Fool's Day park and rumors of a Led Zeppelin reunion last spring which never came to be.
Now this summer, Robert Plant is headlining the Arroyo Seco and KAABOO fests, but, barring a miracle, he won't be part of a Led Zep reunion in Indio this October – which is not only a bummer for music fans, but also all the businesses in the Coachella Valley that could have used another Desert Trip influx of visitors in the desert during shoulder season.
But it's not all bad news, my phone will soon have an extra 97.8 MB available.