Those driving through downtown Cathedral City the last couple of days may have noticed something very, very different in front of City Hall.  And you may want to get used to seeing it as it is going to be around for the next few months.
"Desert Sea," an art installation, was launched on February 15 on the city's "Festival Lawn" and is scheduled to remain until May 5.
The piece is be Coachella Valley artist Cristopher Cichocki – and, though it viewable during the same time as Desert X, it is not part of that installation.
According to the city's website, Desert Sea "unveils a fusion of materials derived from the Coachella Valley that include Salton Sea barnacles, living aloe vera, along with reclaimed irrigation tubing that once watered the mass of abandoned orchard branches on view within this large-scale artwork."
And, yes, it's a lot of irrigation tubing.
Like, seriously, so much of it…
Okay, I think you get the point, but one more picture anyway…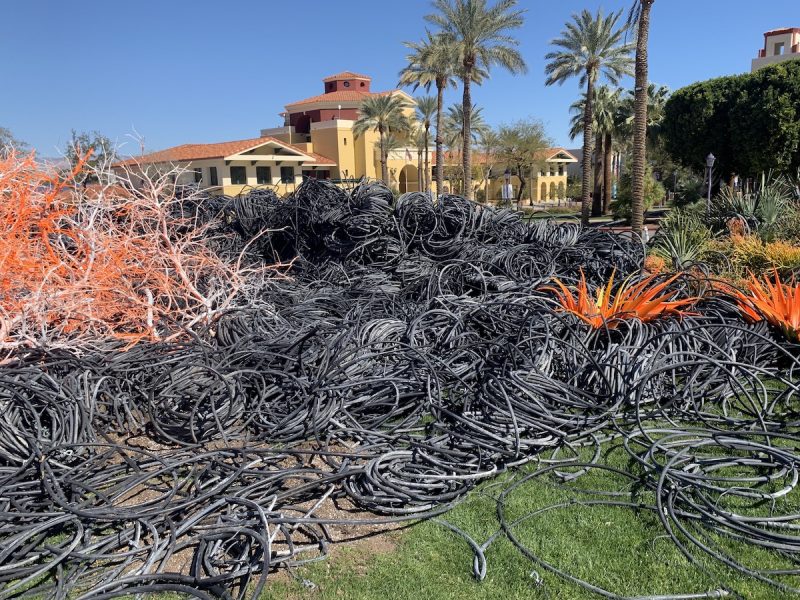 The piece is viewable during the day and at night – when lights are used to give it a different look.
"With art enthusiasts coming to the Coachella Valley from all over the world during this time of year, we wanted to showcase the work of an artist that embraces the desert and its' history," Alan Carvalho, chair of the Cathedral City Public Arts Commission (CCPAC) said in a statement.
Seeing Desert Sea is free and there is plenty of parking around the Civic Center.