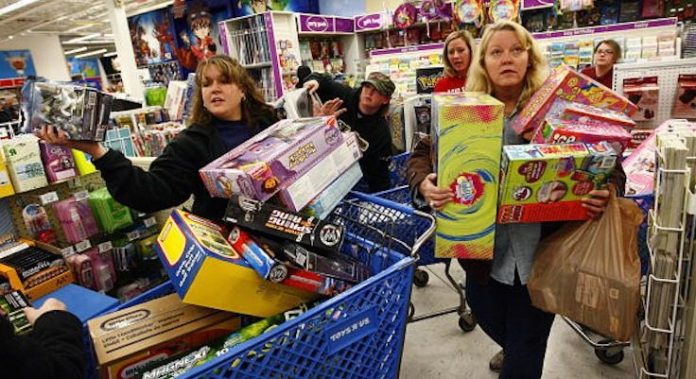 Thanksgiving is nearly here and while that means family, turkey, and football, it also means retail America demands you get out there and buy, buy, buy!!!
Many proclaim that Black Friday is the biggest shopping day of the year – it's not, the Saturday before Christmas is – and to get you shopping as many hours as possible, almost every retail store is opening up on Turkey Day.
Here's the plans for each (via Fortune):
Walmart: The largest U.S. retailer will be open all day as it has been for 30 years. However, the in-store Black Friday deals won't start until 6 p.m. – they will also have online deals.
J.C. Penney: Opening at 3 p.m. – just like last year- giving it a two-hour head-start over its direct rival, Macy's. Penney's is also staying open for 31 straight hours.
Old Navy: Opening at 4 p.m.
Best Buy: They will open at 5 p.m. and close at 1 a.m., before re-opening at 8 a.m. on Black Friday itself.
Macy's: Opening at 5 p.m., an hour earlier than last year.
Toys R Us: Opening at 5 p.m. on Turkey Day.
Target: The discount chain will open at 6 p.m., just as it has in recent years, with online deals available earlier.
Kohl's: The department store is sticking to a 6 p.m. opening on Thanksgiving for its third year.
Sears: Opening at 6 p.m. yet again.
Michaels: The arts-and-crafts chain will greet customers at 6 p.m.
Here are the awesome stores that will wait to open on Black Friday:
GameStop (5 a.m.)
Office Depot, Staples, Lowe's, Home Depot (6 a.m)
Petco, PetSmart, T.J. Maxx, Marshalls, Barnes & Noble (7 a.m.)
Dillards, Neiman Marcus, Saks Fifth Avenue, Nordstrom (8 a.m)