The following is brought to you by Stuft Pizza Bar and Grill.
It's that magical time of the year again, friends. Weekends loaded with college and pro football games and, sure, you're not going want (or even be physically able) to head out to see all of them – but, when you do go out to watch in the Greater Palm Springs Area, you should probably think about making your choice Stuft Pizza Bar and Grill.
So why Stuft Pizza for football in the Coachella Valley?  Well, how about these five reasons:
1) Plenty of Televisions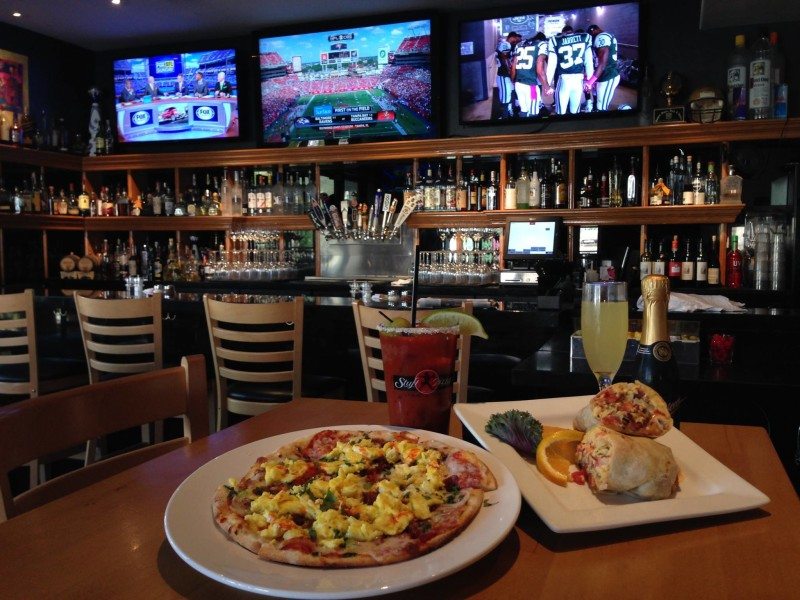 There's nothing worse than going to a so-called "sports bar" in the desert only to find they have two TVs and one of them is tuned into golf for reasons no one can understand.  This definitely isn't the case at Stuft Pizza, where there are plenty of big screens tuned into football – and not just in the bar, there are tons of TVs throughout the entire restaurant, giving you plenty of options for how and where you want to watch the big game.
2) The Food
So, sure, Stuft Pizza Bar and Grill is known for their pizza (I mean, it's in their name), but that's no all you'll find.  Their menu is loaded with tons of choices for appetizers, sandwiches, salads, main courses, and so much more.  Whether you are indulging a bit or sticking to your trainer's strict diet, there's plenty of options for you to choose from at Stuft.
3) The Location
Meeting a bunch of friends for the game?  Why not make it easy on everyone by meeting at the centrally-located Westfield Palm Desert location.  There's plenty of parking and, should your team blow out the other squad, you can go celebrate by heading to the mall and grabbing yourself a new jersey after.
4) The Drinks
We have already mentioned the awesome beer selection at Stuft, but that's not all you'll find.  There are plenty of choices for you wine and cocktail lovers and a full selection of sodas, teas, juices, sparkling water, and more.
5) The Happy Hour
Oh, you thought we would make it through a Stuft Pizza post without talking about their amazing happy hour?  No way!  And here's the thing: they have it on weekends – which is perfect for those afternoon games, as Stuft gets happy from 3 to 6 pm every day.
Enjoy the football!
There are two Stuft Pizza Bar and Grill locations in the Coachella Valley:
72840 Highway 111 (Westfield Mall), Palm Desert, 760-610-7990
78015 Main Street (Old Town), La Quinta, 760-777-9989
Get all the info you need on Stuft Pizza Bar and Grill here.