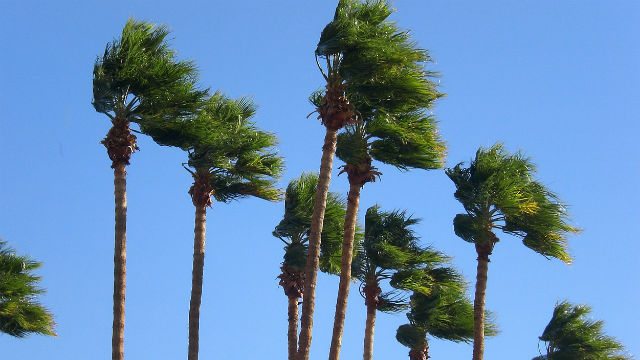 Hey! So, after what seemed like a never-ending scorching summer has finally passed and this week the Coachella Valley is going to see some nice, seasonal temperatures. It might be tough to enjoy though – as the winds are going to be crazy all week.
Strong Santa Ana winds are expected throughout Southern California from Monday through Friday.  Wind gusts could reach up to 40 miles per hour on Monday in the Coachella Valley, according to the National Weather Service.
Here are the forecast peak wind gusts for Monday / Expect higher gusts Tuesday #SoCal #SantaAnaWinds pic.twitter.com/YQXcXSXle1

— NWS San Diego (@NWSSanDiego) December 3, 2017
The strong winds, combined with low humidity and a lack of any rain this season, could also result in fires across Southern California – so a Red Flag Warning has been issued through much of the area.
→@KESQ Weather Heads-Up!
A Santa Ana Wind pattern over Southern California has triggered High Wind Warnings and Red Flag Warnings for the West end of the Coachella Valley, San Gorgonio Pass, Inland Empire and area mountains through Thursday.
Valley highs today near 70°.@KESQ pic.twitter.com/lYGYxqzWot

— Jerry Steffen™ KESQ (@JerrySteffen) December 4, 2017
During a Red Flag Warning, you are urged to be extremely careful with open flames and the state of California has relocated 10 fire units from Northern California to the Los Angeles area in case of fire danger, according to ABC News.
A period of Santa Ana conditions will begin late tonight & continue
through the end of this week. Strongest winds are expected
Tue & Thu. Critical fire weather conditions & very low relative humidity will accompany the winds. For latest details go to https://t.co/yyyf2eMVzA #cawx pic.twitter.com/JmTp3KpkQW

— NWS San Diego (@NWSSanDiego) December 3, 2017
High temperatures should only reach the upper 60s early in the week, according to the forecast.  Then increase to the mid to upper 70s by week's end.
Related: Here's why it gets so winds in the Coachella Valley