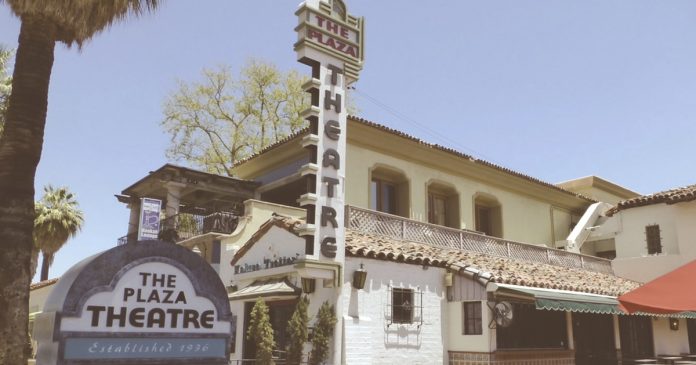 Despite the Coachella Valley having a plethora of theaters and even an arena on the way, the city of Palm Springs launched a campaign earlier this year to drum up a whopping $12 million to fix up the downtown Plaza Theater. Let's check in on how that's going.
Via the Desert Sun:
Serious efforts to drive donations began earlier this year. City records show about $180,000 has been raised toward the theater's renovation so far. The bulk came from two donations: $100,000 from Modernism Week, and $50,000 from the Palm Springs Preservation Foundation.
Outside of the two large donations, $30,000 seems like a pretty weak start for a fundraising campaign that has included multiple media reports, city backing, and even the staging of the State of the City address at the venue.  So why so little?  Well, it could be that it's still to early and money will begin coming in later or, perhaps, people are looking to invest money in things that have a future rather than putting cash into relics of the past.
Backers of the expensive, not-necessarily-needed project are hoping an event with Nancy Sinatra at the theater in February will bring in funds. They are also keeping their fingers crossed that am extremely rich person or a brand just decides to just go ahead and dole out all the funds for some reason:
But ratcheting up to $12 million likely will require the aid of deep-pocked arts aficionados, or famous individuals and brands that are interested in lending their name to the theater.
Good luck with that.