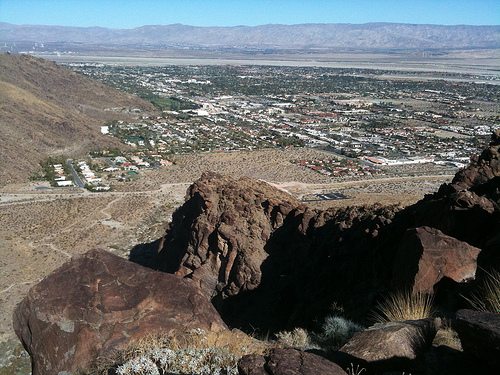 You won't be able to take your dogs on four Palm Springs hiking trails as pups have been banned in an effort to protect the bighorn sheep in the area.
According to the Desert Sun, dogs are no longer allowed on the following trails in Palm Springs:
The Museum Trail
South Lykken Trail
North Lykken Trail
Araby Trail
The ban is apparently allowed due to stipulations in the Coachella Valley Multiple Species Habitat Conservation Plan from 2008, but is only being enforced now as some experts believe dogs may frighten bighorn sheep, even from a distance, and force them to flee from their homes.
Signs went up about the ban this week – not that you should be hiking this time of year, but sooner or later the temperature won't be a zillion degrees and, well, just don't plan on bringing our four-legged friend with you.
Over 800 bighorn sheep live in the area.  The ban follows a winter that saw more than 20 bighorn sheep die from pneumonia in the area.
First time offenders will get a warning.  If you are busted taking a four-legged friend up the trail a second time, your fine could be a whopping $500.