The fourth of several segments filmed in the Coachella Valley for Diners, Drive-Ins, and Dives debuted on Friday night on the Food Network. Zobo & Meester's in Cathedral City was featured as the third of three restaurants on the Food Network show.  Here is a recap of that segment.
"I'm on Perez Road in an Industrial Park, hang on, I know it doesn't sound exciting," host Guy Fieri proclaims to start out the segment and killing any shot to ever work for the Cathedral City Chamber of Commerce.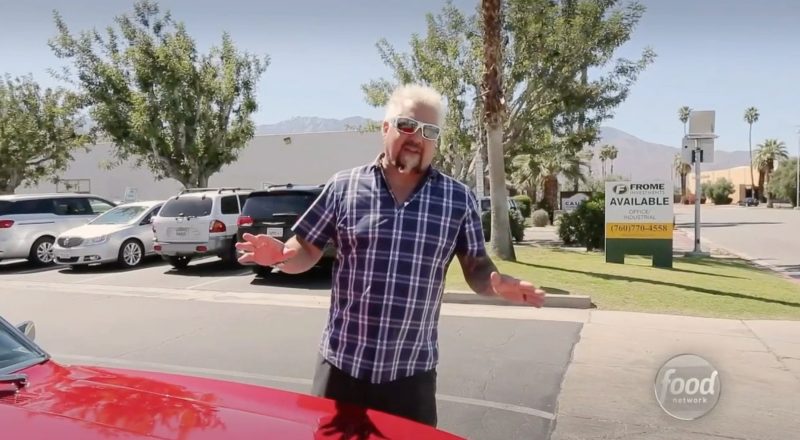 But then Fieri does get to the exciting stuff, which is Zobo & Meester's, named for owner Bart Groendycke's daughters, Zoe and Mia.
Bart and Guy head to the kitchen, where we learn that Bart had never owned a restaurant before and learned a lot of what he now does from watching shows like Triple D. Guy, naturally, is flattered.
The duo than make a couple of dishes, the first being the Flamethrower panini – which consits of roast beef, pork, pepperjack cheese, ZAM sauce, fresh jalapenos, pickled jalapenos, and a habanero sauce – which makes guy very afraid.
When it's all put together, the Flamethrower looks delicious…
But will Guy like it?
Oh yeah.  In fact, the host can't stop eating it.
From there it is on to the Three Meat BBQ sandwich – which is only available on Saturdays and includes, surprise, three meats!  In addition to chicken and pork, there is also brisket – which Guy kindly offers up a taste of to the camera operator.
But will he like it? Well, just look at that face…
And, look at that tasty sandwich!
In the end, Guy gives Bart the ultimate seal of approval: a Fieri Fistbump.
If you go:
Zobo & Meester's, 68703 Perez Rd, Cathedral City, (760) 832-6104
Here are the recaps of the other local restaurants featured on Drive-Ins and Dives.