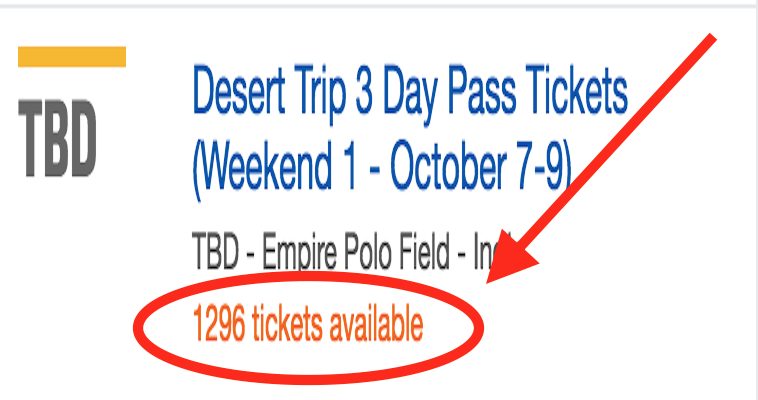 Capitalism sure is great – especially when it comes to those once-in-a-lifetime concert tickets you spent all day trying to get, but instead stared at a very slowly walking man.
The screenshot at the top of the article  shows how many tickets for the first weekend were available on StubHub just 5 hours after tickets to 'Desert Trip' went on sale.
Weekend Two had even more tickets available:
And this is just one example of the huge number of tickets already up for resale on the internet – some which even went up before the show even went on sale.  Sites like Ticket Liquidator, Ticket Network, and Box Office Ticket Sales all had listings for tickets for $1,000s of dollars more than list price – and that is just a few.  Who knows how many will be listed on eBay, Craigslist, etc.
It makes you wonder if anyone actually purchased tickets with the intention of actually going to the show.
Naturally, a ton of people are pretty pissed about it:
Minutes after they sell out. I hate scalpers #DesertTrip pic.twitter.com/5FZBk2InZs

— Ruskin Landreth (@RuskinLandreth) May 9, 2016
2.5hrs and haven't advanced #DesertTrip and tix already appearing on Ebay – scalpers ruin it yet again pic.twitter.com/fVeYU7M0nx

— Rod Emmerson (@rodemmerson) May 9, 2016
Two hours and everything but "premium ticketing" sold out. Damn scalpers. Goobye #DesertTrip pic.twitter.com/37sbRgB4o1

— Enrique Puente (@esepuente) May 9, 2016
#deserttrip Better chance of seeing @RollingStones & friends in Cuba than in the California desert. Shame on the scalpers.

— Mark Pretorius (@crossthreat) May 9, 2016
Allowing 8 tickets per order lets scalpers ruin an event. Total waste of time getting in line for hours #fail #DesertTrip

— Grungy Poseidon (@ryebreadiest) May 9, 2016
If you missed buying tickets, and you are a Coachella Valley local, you have one more chance to buy them the week prior to the event.
Luckily, they put the wristband on you right then and there – eliminating the possibility of someone reselling them for a profit.