This recipe from Cactus Hugs guest blogger Krissy "The Self Proclaimed Foodie" originally appeared on her blog "Self Proclaimed Foodie".
Do not settle for just any turkey recipe this year, impress your Thanksgiving guests (and make your belly so happy!) by serving some Damn Good Roast Turkey. Its unbelievably moist from the apple cider brine and flavorful from all the herbs.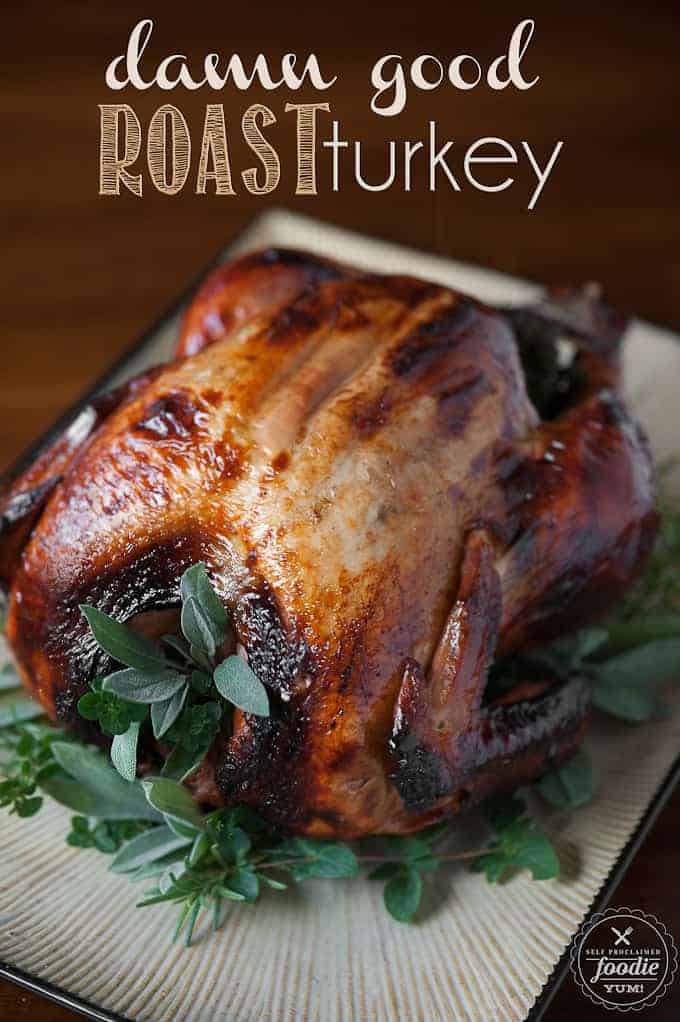 Like so many of you, I make my Thanksgiving turkey every year. Always trying to perfect it. Always trying new methods. And all of that experimentation has paid off, as I have found a turkey recipe that you, your friends, and your family are going to love. It is so good, that you will wish it was Thanksgiving every day! – oh, and this bird is delicious the next day as the centerpiece of your sandwiches…just sayin'.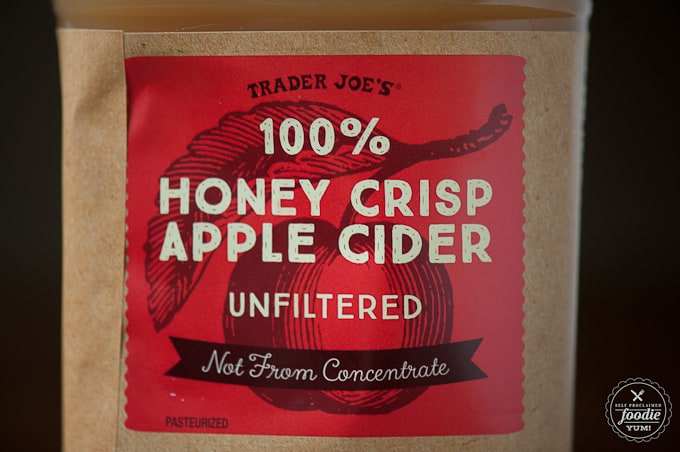 First, we start with Trader Joe's Honey Crisp (I always thought it was one word) Unfiltered Apple Cider. This stuff is pure-heaven. I almost cried when I saw it on the shelf and it was only three bucks too! This stuff was soooo good. The moment I saw it, I couldn't wait to soak my turkey in it. Don't get me wrong – any kind of apple cider will work, but this stuff is AMAZING.
In addition to the cider, you are going to want to grab some fresh herbs. Pay the extra couple of cents for fresh over dried – it is so worth it! I cooked my bird on a Traeger grill (I know, fancy right?), but do not worry – the same approach will work equally as well in your oven.
Your finished turkey will end up being so moist and flavorful. Everything a turkey should be. This will definitely be your new favorite method. And yes, your guests will be saying its Damn Good.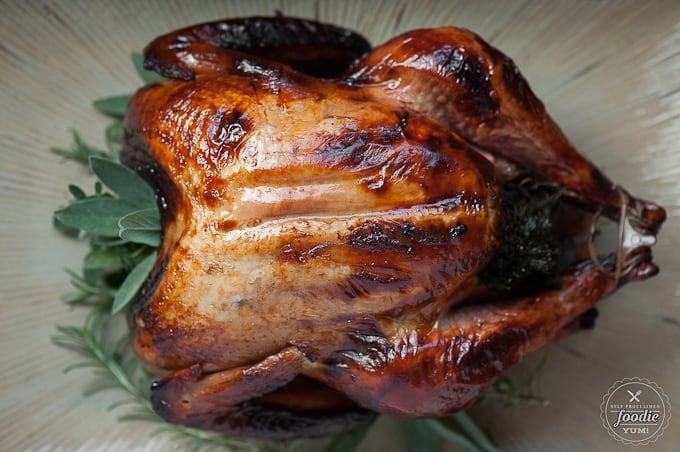 DAMN GOOD ROASTED TURKEY
Author:
Prep time:
Cook time:
Total time:
Impress your Thanksgiving guests by serving some Damn Good Roast Turkey. Its unbelievably moist from the apple cider brine and flavorful from all the herbs.
Ingredients
Brine:
8 cups apple cider
2/3 cup kosher salt
1 tablespoon black peppercorns, coarsely crushed
1 tablespoon whole allspice, coarsely crushed
6 whole cloves
2 bay leaves
1 (12-pound) turkey (ensure its fully thawed if previously frozen)
2 valencia oranges, quartered
6 cups ice
Roasted turkey:
As many fresh herbs as will fit into cavity (sage, rosemary, thyme, marjoram, oregano, basil)
2 cups chicken broth
2 tablespoons unsalted butter, melted
freshly ground black pepper, divided
1 teaspoon salt
Instructions
To prepare brine:
Combine apple cider, salt, peppercorns, allspice, cloves, and bay leaves in a large saucepan and bring to a boil. Cook 5 minutes until salt dissolves. Cool completely.
Remove giblets and neck from turkey, refrigerate until ready to use, and reserve for gravy. Rinse turkey with cold water and pat dry. Trim excess fat. Stuff body cavity with orange quarters. Place a turkey-sized oven bag inside a large stockpot. Place turkey inside bag. Add cold cider mixture and ice. Squeeze as much air out of bag as possible. twist top and secure with twist tie or tuck end so that it stays put. Refrigerate for 12 to 24 hours, turning occasionally.
To roast the turkey:
Preheat oven or grill to 450.
Remove turkey from bag, and discard brine, orange quarters, and bag. Rinse turkey with cold water and pat dry. Cut a small slit in the breast skin so that you can tuck wing tips under to keep in place. Tie legs together with kitchen string if the turkey didn't already come with a fastener. Place herbs in the cavity of the bird. Pour the broth in the bottom of a roasting pan that will be under the bird (this will also catch the drippings). Place roasting rack in pan if roasting in the oven or if using a rack and roasting pan on your grill. I cooked mine on the trager and put a pan on the grease tray under the rack, and the turkey directly on the rack.
Arrange turkey, breast side down, on roasting rack. Brush turkey with 1 tablespoon of the butter and sprinkle with salt and pepper. Roast at 450 for 30 minutes.
Reduce oven temperature to 350.
Carefully turn turkey over (breast side up). Brush turkey breast with 1 tablespoon butter; sprinkle with more salt and pepper. Bake at 350 for 1 hour and 15 minutes* or until a thermometer inserted into meaty part of breast registers 150. Remove turkey from oven, tent with foil with thermometer still inserted, and let stand until internal temperature reads 160-165, about 20 minutes. Reserve pan drippings for gravy.
Krissy "The Self Proclaimed Foodie" has a full lineup of delicious Thanksgiving dishes on her blog "Self Proclaimed Foodie". If you are looking for a dinner filled with delicious awesomeness, be sure to check out her recipes for: