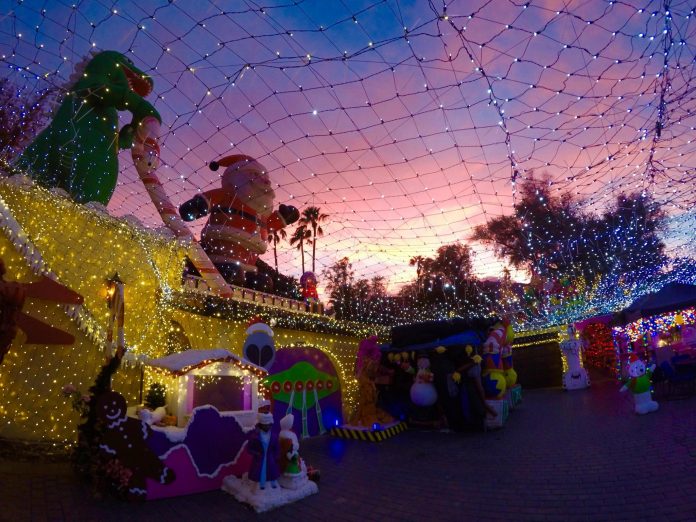 Robolights, the strangest freakin' holiday display you will ever see, will not take place in Palm Springs this year after the city agreed to pay the artist behind it, Kenny Irwin Jr., a bunch of cash to go elsewhere. For 2019, that elsewhere happens to be a couple of time zones away. But, come 2020 and beyond, RoboLights may land in Desert Hot Springs, according to the reporting of Brian Blueskye of the Desert Sun.
Instead of finding a commercial space in Palm Springs, Irwin has purchased a 10-acre site in Desert Hot Springs behind Cabot's Pueblo Museum off Miracle Hill Road. Records from the Riverside County Assessor's office show Irwin purchased two parcels of land — one 7.5 acres and another 2.5 acres — in June 2019.

Irwin said through his publicist that he hopes to start developing the site in November. At present, the land is home to an abandoned structure and the road leading up to it is blocked to the public.

Irwin paid $350,000 for the properties, according to Brittany Sorrentino, Irwin's director of business development. Irwin was paid $125,000 in 2018 from the City of Palm Springs to help cover the move to a new location.
And while Irwin now has acquired the land, staging RoboLights on it is no done deal as it will have to go through the planning commission and get the necessary permitting – though, that area was home to not one,  but two two Desert X installations (with yet another pretty close), so the area is a bit used to folks parking up and down the street to take some selfies to post to the 'Gram.