It's Coachella Weekend Two in Indio and Cactus Hugs is out at the festival. Here are some random notes from the first day of the fest.
Check out the place early sometime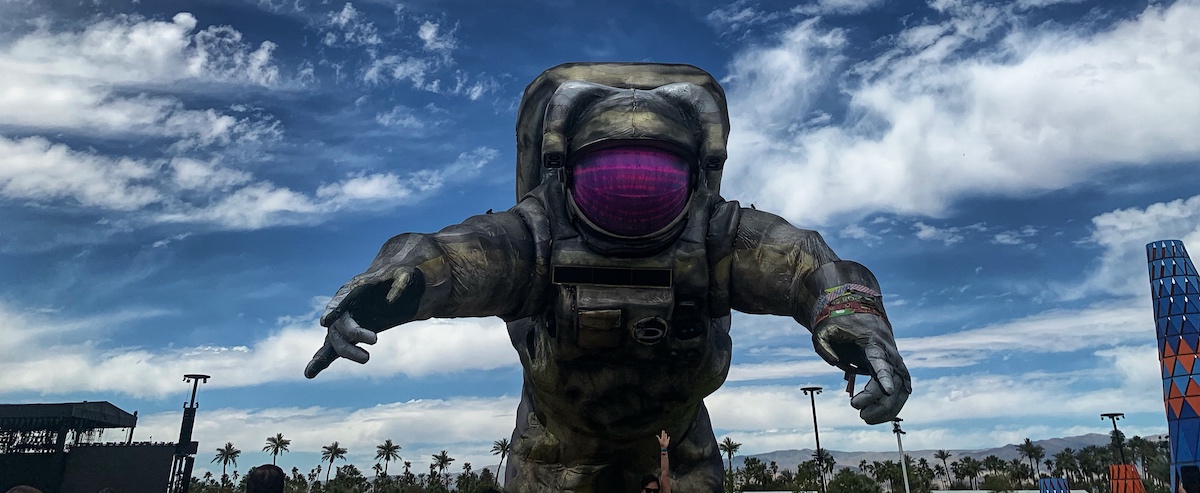 Like most (smart) people, I have mostly gone to Coachella as the sun is about to set on the place as, well, it's freakin' hot during the day. Add to that performances that go well into the night and getting to the Empire Polo Field at noon or 1 pm might just sound insane to most – which is why, for anyone who does it, they basically get the place to themselves for a few hours.
It's kind of cool to be able to take photos of the art installations without a million people around, grab some food without waiting in line for 20 minutes, get up-close to see one of the early acts performing, and easily stroll into one of the secret bars they have on site now.
Plus, if you have a shuttle pass, you can just head out after a bit, take a nap, pre-game somewhere, or relax in the pool, and then come back later.  Friday is always your best bet to do this, if you can, as plenty of fest goers arrive later as they are stuck in traffic on the 10.
If you do it, plan on arriving about noon or 1 and take advantage of the sparse crowds up until about 3 or so.  By 5 the place will be packed af.
Will Smith showed up
The Fresh Prince surprised during his son Jaden's set.  I missed it, but it was just one of Jaden's songs, so I'm okay with it.
Will Smith hopped on with Jaden to finish off his Coachella set with "Icon" pic.twitter.com/LHEodlUF8c

— RUN THE TRAP (@RUNTHETRAP) April 20, 2019
The Hawkins Burger is a Really Good Burger
You'll find Hawkins Burger, an LA hamburger joint, inside the Indio Central Market.  When ordering you start with your basic burger, then add things like cheese, chili, bacon, or pastrami to it.  The add-ons can start to make the thing a bit pricey – my bacon and cheese burger was $19 – but all fest food is a bit pricey and this thing is freakin' delicious with a nice, soft bun, really good patty, crisp and thick bacon, and fresh veggies.
Los Tucanes de Tijuana brought the crowds
For the first main stage act of the day, Los Tucanes de Tijuana brought out a really big crowd – and, rightfully so, they were really good.
Brandy was there
She joined Anderson .Paak & the Free Nationals during their awesome evening set to perform the song "Jetblack."
#AboutLastNight @4everbrandy joined @AndersonPaak on stage at #Coachella as they performed their song #JetBlack from his new album #Ventura!!! #4everteambrandy support #LinkInBio!!! #Brandy #VocalBible #AndersonPaak #RnB #Brandy2019Takeover #Coachella2019 #MainStage pic.twitter.com/Zmt9ZntE1K

— #4everTeamBrandy (@4everTeamBrandy) April 20, 2019
I am jealous of her giant couch
King Princess had a giant couch on stage during her set and can we all please climb up on it and take like a 20 minutes nap?  I mean, we got here early and ate a giant burger!
Childish Gambino said weekend Two people are 'way doper' than Weekend One folks
Childish Gambino – This Is America 🔥🔥#coachella

— ÇapaMag Müzik (@CapamagMusic) April 20, 2019
Not sure if he was just saying that to butter me up, but I'll take it.
The Day One lineup was solid
Kacey Musgraves was a cool, chill set to end the afternoon and transition into the night.  Everyone I talked to was stoked about seeing Blackpink, Mon Laferte sounded great, and The 1975 had a conveyor belt for Matty Healy to dance on.  That's just to name a few – as there are a zillion acts to see every day.
And now we are headed back for Day Two!