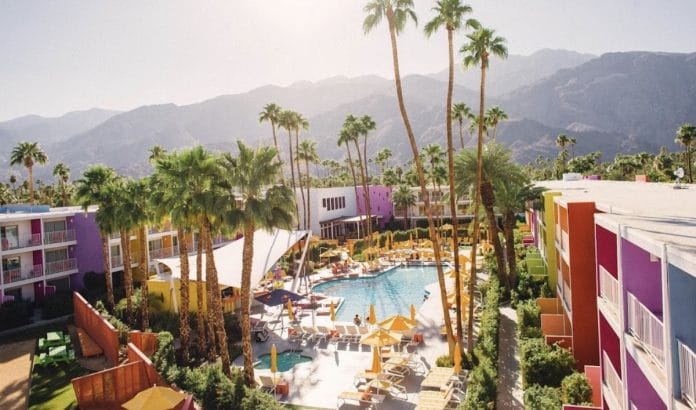 Hey there. Coachella Valley local here. Every year at this time I get bombarded with texts and DMs from friends and people I met that one time that I don't remember asking for me to share my 20+ years of Palm Springs area knowledge to them as they purchased Coachella fest tickets and now are scrambling for a place to stay that doesn't suck. In an effort to help them (and you, lovely reader), I have crafted the following guide to booking your Coachella Weekend room, hotel, Airbnb, tent, yurt, or whatever. Hope it helps and enjoy Coachella.
Note: a couple of the links might be affiliate and Cactus Hugs might get a small commission should you book through them. We'll use the money to keep the lights on and you get a great place to stay for Coachella. Win-win!
Here are your Coachella stay booking options:
Stay at Coachella
Okay. This is the obvious one. You can book a campsite at the festival when you buy tickets (well, if one is still available). The campground is very popular, so it does sell out pretty quick. If you do book it, make sure you get familiar with what you can and can not bring into the area prior to arriving and be ready for anything including extreme heat, crazy winds, assholes, douchebags, and even the campground closing with barely any notice leaving you no other option that hanging out in a Walmart parking lot for a night #WalmartChella.
Book a Hotel Room
If you are not down for camping or it has already sold out, then a hotel room might be your thing. The Greater Palm Springs area has, literally, a shit ton of hotel rooms. But, some might fit your needs better than others. Of course, price and, perhaps, not having bed bugs is probably your top priority, but you might also want to consider just how you get in and out of the festival.
Driving your own car can end up in long delays in seeing the show and Uber has a tendency to jack up rates during the fest, so I always recommend taking the official Coachella shuttle. It's easy, convenient, and, as long as you don't bring it in a glass bottle, the drivers are usually cool with you pre-gaming on the ride in.
Bonus: You can normally find the shuttle available at a deep discount on StubHub.
Take a look at the shuttle routes and try to book a room near a stop. There are plenty of stops around town from Coachella (the town, not the fest…which is actually in Indio) out to Palm Springs – which I should note is where you will find most of those big pool parties thrown by brands and such, so if that is your thing, you probably want to be in the west valley.
It never fails that every year at the fest I meet someone who thought they were getting a great deal and booked a room in Yucca Valley.  That is fucking far away from the Empire Polo Club!!  Do everything you can to book in the Coachella Valley, it might cost a bit more, but you will save on gas money, time, and headaches.
I recommend checking out hotels.com, booking.com,  and Expedia for the best rates in Palm Springs during fest.
Airbnb
So here's the thing about Airbnb: while you are all about having a kick-ass party weekend, you might end up booking a house in a locals-area with that is very much not.  Keep in mind that the place you book as a "party house" might be surrounded by families and people who have to go to work at 7 am and aren't hip to your 3 am pool party.  So, if you're looking to rage, a hotel might be more up your alley.
That said, so long as get what the deal is, Airbnb can be a great way to book your Coachella weekend.  Get a group of people and rent a house together and it can actually be a great bonding experience and quite affordable as you can pay for it together and stock the place with food (be sure to stick to the occupancy rules though so you don't get busted).
You can also rent a room as plenty of locals are looking to pay their mortgage for the month by turning their place into a hotel just for you!  Check their profiles a bit before booking. Some hosts are cool, some are not.
Be sure to book as early as possible (to avoid having to stay at one of these places) and always use legitimate booking sites like Airbnb and HomeAway so as not to be scammed.  It happens every year so be smart about your booking.
You can see what's available for Coachella at Airbnb and Homeaway.
At My Place
So, this is usually the real reason people reach out to me asking for advice as they are just hoping that I will offer up my couch to them for free.  Not going to happen, so pick another one and let's grab a beer at the Craft Beer Barn during the fest to catch up.
Have a great weekend at Coachella!