Coachella 2021: Dates, location, information, tips, and tricks for the festival
The 2021 Coachella Music and Arts festival is coming to Indio in April, 2021. Here is information about the three-day festival held over two weekends including dates, location ,ticket and lineup information, and some tips and tricks for the biggest festival in the world.
Coachella 2021 dates
There are no official dates of the 2021 Coachella Music and Arts Festival just yet.  Typicall, these are released by Goldenvoice a few weeks following each year's Coachella (in 2019, it was on June 9).
Now, while we don't have the official dates just yet, based on previous years scheduling, the best bet on the dates for 2021 Coachella would be :
Weekend 1: April 9 – 11, 2021
Weekend 2: April 16 – 18, 2021
That would be followed by a third weekend of music, art, parties, and more with the Stagecoach Country Music Festival, with the dates for the country music festival most likely being:
Stagecoach 2021: April 23 – 25
How Much are tickets to Coachella?
General admission passes for the 2020 fest cost $399 plus fees.  VIP wristbands were priced at $929 plus fees. Tickets for Coachella 2020 went on sale Friday, June 14, 2019 at 11 am.  You can expect tickets for Coachella 2021 to first go on sale about the same time in June.
Typically, tickets for Coachella go on sale two times – with the first sale being the only chance to pay for wristbands using monthly payments. Then another round of tickets will go on sale following the lineup announcement in January – where a payment plan is not offered.
Coachella 2021 Lineup:
Well, we don't know that yet.  The official lineup normally drops in early January.
Coachella Location
The three-day festival takes place at the Empire Polo Club in Indio – which is about 30 minutes east of Palm Springs.
For those who drive in from Los Angeles or Orange County, expect to see some traffic coming in on Thursday and Friday, especially through Cabazon and the Banning and Beamont areas along the 10 Freeway.  There is also always terrible traffic Monday morning following the festival.
Where Should You Stay for Coachella
Funny you should ask!  We have a whole guide for that here.
Coachella Festival Tips and Tricks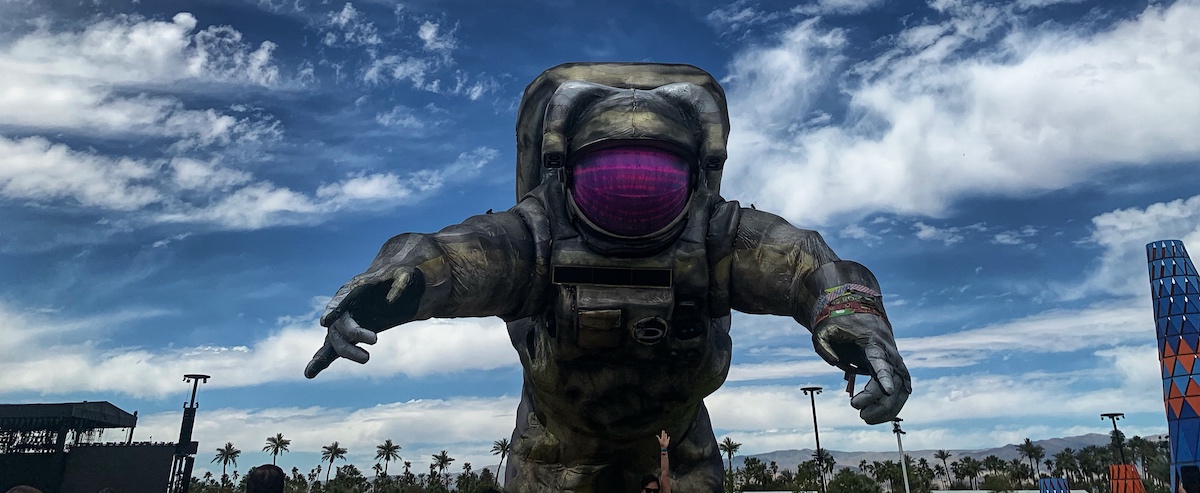 So let me start this by saying that I have lived in the Palm Springs Area for over 20 years and have attended over 30 Goldenvoice fests in Indio including Coachella, Desert Trip, and, of course Stagecoach.  Here are five things that I have picked up over the years.
1) Get a Shuttle Pass
Unless you are camping out at the festival, get yourself a shuttle pass. The shuttles are pretty great.  There are plenty of pickup points around the desert and the buses run pretty regularly so you don't have to wait around all day to catch one.  Bring a beer or two on the bus (cans not bottles) and enjoy your ride in rather than being stuck behind the wheel in traffic and then later trying to remember where you parked.
Pro-Tip: Check StubHub to find them at a discount.
2) Hydrate!
Indio gets hot in April.  Add to that some booze (and whatever else you might be enjoying) and you could be in for a world of hurt if you don't remember to drink some freakin' water.  Get a huge jug of water and pound that thing while you are kicking it by the pool to pre-party.  Then use the refillable water stations to keep hydrated inside of Coachella.  Also, buy your Pedialyte before you get to town as many of the stores mark that stuff way up for the festival weekends.
3) Buy a Mask and a Neti Pot
You have heard of Cough-chella and it's the real deal, man.  You can do your best to avoid it by grabbing an inexpensive bandana mask to wear while walking around the dusty areas and a Neti Pot to clear everything out at the end of the night.
4) Stay Somewhere that Makes Sense
The Palm Springs Area is sprawling.  You might save money by staying somewhere like Yucca Valley or Beaumont (I have talked to people at the fest that did this), but then you are basically an hour away from Coachella and that drive back to the hotel is gonna suck.  We have some tips for where to stay here.
5) Don't Leave Monday Morning
The traffic getting out of the Coachella Valley on the morning after Coachella always bloooooooows.  Just plan on staying another day or, at the very least, plan on kicking it in the desert until Monday evening when things start to get back to normal.  You can spend that time by the pool, taking a hike (also hydrate for that), or checking out some of the local attractions like the Palm Springs Aerial Tramway or the Palm Springs Air Museum.
What if You Don't Go
No worries.  You can still catch plenty of the Coachella performances on YouTube – well, at least during Weekend One.  So, if you don't manage to snag tickets or just can't get the weekend off of work, you can still enjoy part of the fest.
Enjoy Coachella 2021!
Where to Stay for Coachella
We'll help you pick the right spot to stay for your weekend at the festival.
Where to Grab Breakfast Before Coachella
Check out our guide to the best breakfasts in the desert.
Where to Grab A Drink Before Coachella
Check out our guide to the best Happy Hours in the desert.