[tdc_zone type="tdc_content"][vc_row][vc_column width="2/3″][vc_single_image media_size_image_height="458″ media_size_image_width="696″ image="48375″][td_block_text_with_title]
Coachella 2020: Dates, location, information, tips, and tricks for the festival
The 2020 Coachella Music and Arts festival is coming this fall…yes, it's now happening in the fall! Here are the dates, location ,ticket and lineup information, and some tips and tricks for the biggest festival in the world.
Coachella 2020 dates
Originally scheduled for April 10 – 12 and April 17 – 19, 2020, the 2020 Coachella Music and Arts Festival will now take place in October, due to the coronavirus.  The updated dates are.
Weekend 1: October 9 – 11, 2020
Weekend 2: October 16 – 18, 2020
Coachella will be followed once again by the Stagecoach Country Music Festival at the Empire Polo Club on October 24- 25.
Statement About the Updated Fall Dates
On March 10, Goldenvoice released the following statement:
At the direction of the County of Riverside and local health authorities, we must sadly confirm the rescheduling of Coachella and Stagecoach due to COVID-19 concerns. While this decision comes at a time of universal uncertainty, we take the safety and health of our guests, staff and community very seriously. We urge everyone to follow the guidelines and protocols put forth by public health officials.
Coachella will now take place on October 9, 10 and 11 and October 16, 17 and 18, 2020. Stagecoach will take place on October 23, 24 and 25, 2020. All purchases for the April dates will be honored for the rescheduled October dates. Purchasers will be notified by Friday, March 13 on how to obtain a refund if they are unable to attend.
Thank you for your continued support and we look forward to seeing you in the desert this fall.
Yes, my friend.  It's happening and it's definitely going to be a bit different.
How Much are tickets to Coachella?
General admission passes were sold for $399 plus fees.  VIP wristbands were $929 plus fees. All passes have since sold out.
Coachella 2020 Lineup:
Here is your official Coachella 2020 lineup:
We listed all of the artists in alphabetical order at the bottom of this post.
Coachella Location
The three-day festival takes place at the Empire Polo Club in Indio – which is about 30 minutes east of Palm Springs.
For those who drive in from Los Angeles or Orange County, expect to see some traffic coming in on Thursday and Friday, especially through Cabazon and the Banning and Beamont areas along the 10 Freeway.  There is also always terrible traffic Monday morning following the festival.
Where Should You Stay for Coachella
Funny you should ask!  We have a whole guide for that here.
Advertisement

Coachella Festival Tips and Tricks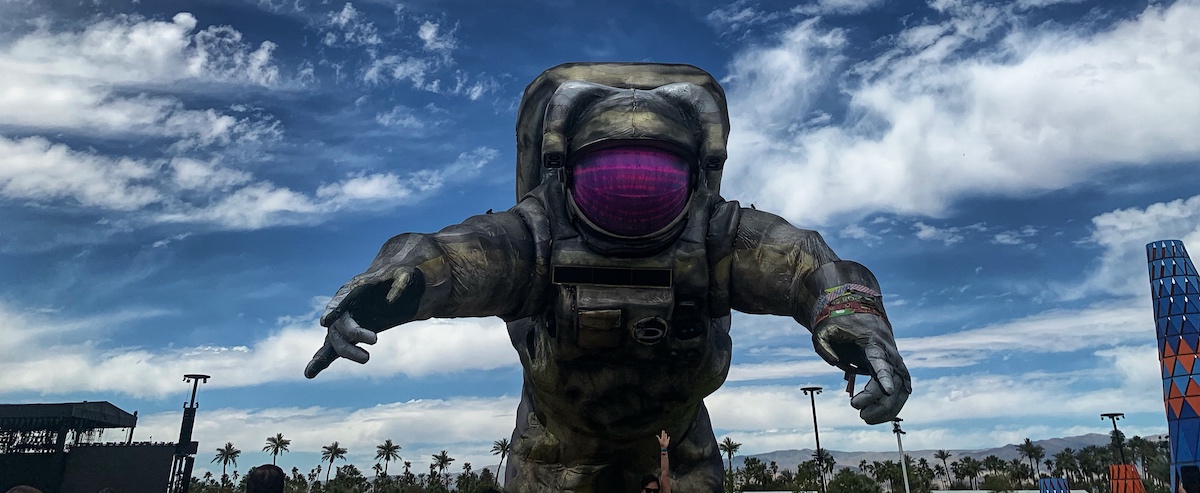 So let me start this by saying that I have lived in the Palm Springs Area for over 20 years and have attended over 30 Goldenvoice fests in Indio including Coachella, Desert Trip, and, of course Stagecoach.  Here are five things that I have picked up over the years.
1) Get a Shuttle Pass
Unless you are camping out at the festival, get yourself a shuttle pass. The shuttles are pretty great.  There are plenty of pickup points around the desert and the buses run pretty regularly so you don't have to wait around all day to catch one.  Bring a beer or two on the bus (cans not bottles) and enjoy your ride in rather than being stuck behind the wheel in traffic and then later trying to remember where you parked.
Pro-Tip: Check StubHub to find them at a discount.
2) Hydrate!
Indio gets hot in April.  Add to that some booze (and whatever else you might be enjoying) and you could be in for a world of hurt if you don't remember to drink some freakin' water.  Get a huge jug of water and pound that thing while you are kicking it by the pool to pre-party.  Then use the refillable water stations to keep hydrated inside of Coachella.  Also, buy your Pedialyte before you get to town as many of the stores mark that stuff way up for the festival weekends.
3) Buy a Mask and a Neti Pot
You have heard of Cough-chella and it's the real deal, man.  You can do your best to avoid it by grabbing an inexpensive bandana mask to wear while walking around the dusty areas and a Neti Pot to clear everything out at the end of the night.
4) Stay Somewhere that Makes Sense
The Palm Springs Area is sprawling.  You might save money by staying somewhere like Yucca Valley or Beaumont (I have talked to people at the fest that did this), but then you are basically an hour away from Coachella and that drive back to the hotel is gonna suck.  We have some tips for where to stay here.
5) Don't Leave Monday Morning
The traffic getting out of the Coachella Valley on the morning after Coachella always bloooooooows.  Just plan on staying another day or, at the very least, plan on kicking it in the desert until Monday evening when things start to get back to normal.  You can spend that time by the pool, taking a hike (also hydrate for that), or checking out some of the local attractions like the Palm Springs Aerial Tramway or the Palm Springs Air Museum.
What if You Don't Go
No worries.  You can still catch plenty of the Coachella performances on YouTube – well, at least during Weekend One.  So, if you don't manage to snag tickets or just can't get the weekend off of work, you can still enjoy part of the fest.
Here's full Coachella 2020 lineup in alphabetical order:
(Sandy) Alex G
100 gecs
21 Savage
88rising's Double Happiness
Adam Port
Alec Benjamin
Ali Gatie
Altın Gün
Amber Mark
Amyl and the Sniffers
Anitta
ANNA
Anna Calvi
Ari Lennox
Aya Nakamura
BADBADNOTGOOD
Banda MS
beabadoobee
Beach Bunny
Beach Goons
Bedouin
Big Sean
Big Wild
BIGBANG
Bishop Briggs
black midi
Black Pumas
Black Coffee
BROCKHAMPTON
Calvin Harris
Caribou
Cariño
Carly Rae Jepsen
Cashmere Cat
Channel Tres
Charli XCX
Chelsea Cutler
Chicano Batman
Chris Liebing
City Girls
Code Orange
Conan Gray
Crumb
Cuco
DaBaby
Damian Lazarus
Daniel Caesar
Danny Elfman
Daphni
Dave
Denzel Curry
Detlef
Disclosure
Dixon
DJ Koze
DJ Lord
Doja Cat
Dom Dolla
Duck Sauce
Duke Dumont
Ed Maverick
ela minus
Ellen Allien
Emo Nite
Emotional Oranges
Epik High
Erick Morillo
Ezra Collective
Fatboy Slim
FKA twigs
Floating Points
Flume
Fontaines D.C.
Frank Ocean
Freddie Gibbs & Madlib
Friendly Fires
GG Magree
girl in red
Giselle Woo & The Night Owls
GRiZ
Guy Laliberté
Hatsune Miku
Hayden James
Hot Chip
IDLES
Inner Wave
J.I.D
Jai Wolf
Jayda G
Jessie Reyez
Joji
Kim Petras
King Gizzard & The Lizard Wizard
Koffee
Kruder & Dorfmeister
Kyary Pamyu Pamyu
Kyle Watson
Kynda Black
L'Impératrice
Lana Del Rey
Lane 8
Lauren Daigle
Ленинград (Leningrad)
Lewis Capaldi
Lil Nas X
Lil Uzi Vert
Lost Kings
Louis The Child
Luttrell
Madeon
Malaa
Mannequin Pussy
Mariah the Scientist
Marina
Masego
Matoma
Megan Thee Stallion
Melé
MIKA
Monolink
Mura Masa
NIKI
Nilüfer Yanya
Noname
Olivia O'Brien
Omar Apollo
ONYVAA
Orville Peck
Pabllo Vittar
Paco Osuna
Peggy Gou
Pink Sweat$
Princess Nokia
PUP
Rage Against the Machine
Raveena
Rex Orange County
Rich Brian
Roddy Ricch
Run The Jewels
Sahar Z
Sama'
Sampa The Great
Sara Landry
Sasha Sloan
Satori
SebastiAn
Seun Kuti & Egypt 80
Skegss
SLANDER
Sleaford Mods
slowthai
Snail Mail
Steve Lacy
Summer Walker
Swae Lee
Tchami
Testpilot
The Chats
The Comet Is Coming
The HU
The Martinez Brothers
The Murder Capital
The Regrettes
Thom Yorke | Tomorrow's Modern Boxes
Tiga
TNGHT
TOKiMONSTA
Travis Scott
Viagra Boys
VNSSA
Weyes Blood
Whipped Cream
Yaeji
YBN Cordae
YUNGBLUD
Enjoy Coachella 2020!
[/td_block_text_with_title][tdm_block_call_to_action title_text="V2hlcmUlMjB0byUyMFN0YXklMjBmb3IlMjBDb2FjaGVsbGE=" title_size="tdm-title-md" description="V2UnbGwlMjBoZWxwJTIweW91JTIwcGljayUyMHRoZSUyMHJpZ2h0JTIwc3BvdCUyMHRvJTIwc3RheSUyMGZvciUyMHlvdXIlMjB3ZWVrZW5kJTIwYXQlMjB0aGUlMjBmZXN0aXZhbC4=" button_text="Read More >" button_url="https://www.cactushugs.com/coachella-fest-where-should-you-stay-when-going-to-the-festival/" button_tdicon="tdc-font-fa tdc-font-fa-chevron-right" button_size="tdm-btn-md" content_align_vertical="content-vert-center" button_open_in_new_window="yes"][tdm_block_call_to_action title_text="V2hlcmUlMjB0byUyMEdyYWIlMjBCcmVha2Zhc3QlMjBCZWZvcmUlMjBDb2FjaGVsbGE=" title_size="tdm-title-md" description="Q2hlY2slMjBvdXQlMjBvdXIlMjBndWlkZSUyMHRvJTIwdGhlJTIwYmVzdCUyMGJyZWFrZmFzdHMlMjBpbiUyMHRoZSUyMGRlc2VydC4=" button_text="Read More >" button_url="https://www.cactushugs.com/breakfast-guide-coachella-valley/" button_tdicon="tdc-font-fa tdc-font-fa-chevron-right" button_size="tdm-btn-md" content_align_vertical="content-vert-center" button_open_in_new_window="yes"][tdm_block_call_to_action title_text="V2hlcmUlMjB0byUyMEdyYWIlMjBBJTIwRHJpbmslMjBCZWZvcmUlMjBDb2FjaGVsbGE=" title_size="tdm-title-md" description="Q2hlY2slMjBvdXQlMjBvdXIlMjBndWlkZSUyMHRvJTIwdGhlJTIwYmVzdCUyMEhhcHB5JTIwSG91cnMlMjBpbiUyMHRoZSUyMGRlc2VydC4=" button_text="Read More >" button_url="https://www.cactushugs.com/best-happy-hours-coachella-valley//" button_tdicon="tdc-font-fa tdc-font-fa-chevron-right" button_size="tdm-btn-md" content_align_vertical="content-vert-center" button_open_in_new_window="yes"][/vc_column][vc_column width="1/3″ is_sticky="yes"][vc_widget_sidebar sidebar_id="td-default"][/vc_column][/vc_row][vc_row][vc_column][td_block_text_with_title]
[/td_block_text_with_title][/vc_column][/vc_row][vc_row][vc_column][td_block_19 category_id="137″ limit="9″ custom_title="Coachella News"][/vc_column][/vc_row][/tdc_zone]