It never ceases to amaze the magical finds you can discover on YouTube. Take for instance this old school 1950s tourism film about the "little city" that is Palm Springs where "luxurious homes on wheels" are a common sight.
Called "America's Desert Oasis," the 18 minute film was produced by the Palm Springs Rotary Club.  The announcer of the film explains that the "well planned and attractive" little city, with a population of about 10,000, has a modern school system serving 2,500 children and a newly built baseball park that is used by a "major team for Spring Training." So, yeah, times have changed just a bit.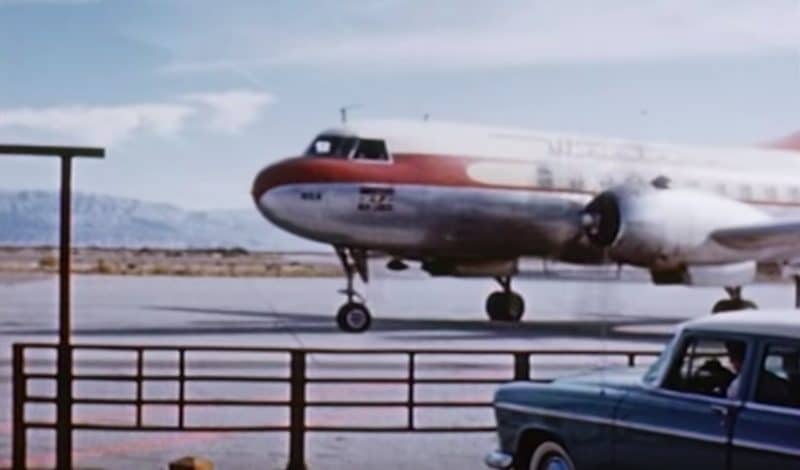 There's also footage of the airport, a horseback ride up to Andreas Canyon, a peak at "The Center – a shopping center you can find only in Palm Springs," golf at Thunderbird, and a look at the city's nightlife – which included a performance by Louis Armstrong.
Along the way, the film crew and announcer just happen to run into local Palm Springs celebrities like William Paul and Charile Farrell playing tennis and Hall of Fame baseball player Ralph Kiner and his wife, professional tennis player Nancy Chaffee, who just happen to be out for a walk through downtown Palm Springs.
As the announcer explains, "they're just plain folks along with their neighbors" and, when you spot a celeb, you "probably just smile, say howdy, and walk on."
The YouTube vid just kind of ends while they take a drive up to the "winter fairyland" that is Idyllwild so it's anyone's guess as to exactly how the original film ended – perhaps an avalanche?  But, even without an ending, it is kind of fun to look back on Palm Springs back in the day.
Check it out:
And, if you like old school videos of Palm Springs and the Coachella Valley, check out more cool videos here.