Bootlegger Tiki, already known for their awesome cocktails, will be hosting monthly food and drink pairings this summer.
The uptown bar has announced that they have teamed with Chef Christian John Sia, formerly of Moto – a highly acclaimed molecular gastronomy restaurant in Chicago known for creating "high-tech" dishes using things like carbonated fruit, edible paper, lasers (!), and freezing food using liquid nitrogen – for a summer pop-up series.
Bootlegger Tiki will host a food pairing beginning on June 28th and then continuing every last Wednesday of the month. Guests who pony up $75 will get a unique four course food and cocktail offering. There will also be ala carte courses available for $25.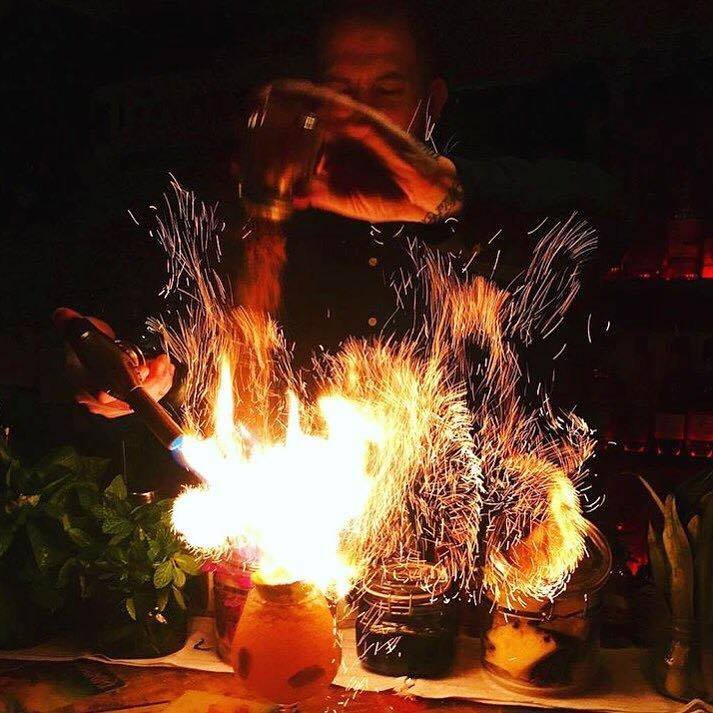 "I am very excited to be able to offer this fun pop-up the the guests at Bootlegger," said Chad Austin, Head Bartender & Beverage Director at Bootlegger Tiki.  "To be able to push the limits of what guests expect out of a cocktail, people have been pairing wine with gourmet meals for years but cocktails have always been a before or after dinner experience."
Menus will be released the day of the event and space will be doled out on a first come, first serve basis beginning at 6 pm.
You can stay up-to-date by following Bootlegger Tiki on Instagram.
Bootlegger Tiki, 1101 N Palm Canyon Dr, Palm Springs, (760) 318-4154