If you are looking for a great hamburger in the Greater Palm Springs Area, you are in luck. There are quite a few burger joints in the Coachella Valley serving up delicious beef goodness between two buns just about every day.
Here are the 10 best burger joints in the Coachella Valley (in no particular order):
Tyler's Burgers
This downtown Palm Springs hotspot has been serving up hamburgers for over twenty years now.  Their menu is simple – which is a good thing, since it lets them concentrate on what they do best: make awesome hamburgers!  And they even take credit cards now too!
Tyler's Burgers, 149 S Indian Canyon Dr., Palm Springs, (760) 325-2990
Eureka!
Eureka! Indian Wells is known for having a great selection of whiskey and beer – but, they are probably best known for their great hamburgers.  Lots of different types to choose from including the Jalapeño Egg Burger, Fresno Fig Burger, and a delicious Bone Marrow Burger.
Eureka!, 74985 Highway 111, Palm Desert*, (760) 834-7700
Grill-a-Burger
I was surprised to see Grill-A-Burger has such an extensive salad section on the menu because, once you set foot inside, it is damn near impossible not to order one of their delicious hamburgers.
Thirty different beef burgers to choose from complete with all kinds of different toppings and buns.  There are also mini-burgers and non-beef options plus over ten different types of hot dogs.
Grill-A-Burger, 73091 Country Club Dr, Palm Desert, (760) 346-8170
Babe's Bar-B-Que & Brewhouse
Babe's has been serving up tasty barbecue and beer they brew in-house at the River in Rancho Mirage for over a decade.  They also serve up a delicious burger using 80/20 ground New York strip loin that is always fresh, never frozen.
Babe's Bar-B-Que & Brewhouse, 71800 California Highway 111, Rancho Mirage (The River at Rancho Mirage), (760) 346-8738
In-N-Out
Look.  You can not ever have a best hamburger list in Southern California without including In-N-Out.  It is just not possible.  Ever.  Under any circumstances.
In-N-Out Burger has locations in Cabazon, Thousand Palms, La Quinta, and Indio.
Tony's Burgers
Tony's serves up tasty six ounce Black Angus chuck hamburgers that Tony himself mastered while cooking them up for over 25 years.
The menu has quite an extensive selection of hamburgers to choose from as well as hot dogs, salads, and sandwiches and they do it all well – which must be why, with over 200 reviews, they have 4.5 stars on Yelp.
Be sure to check out our more detailed write up on Tony's Burgers here.
Tony's Burgers, 35903 Date Palm Dr., Cathedral City, (760) 832-7794
State Fare Bar + Kitchen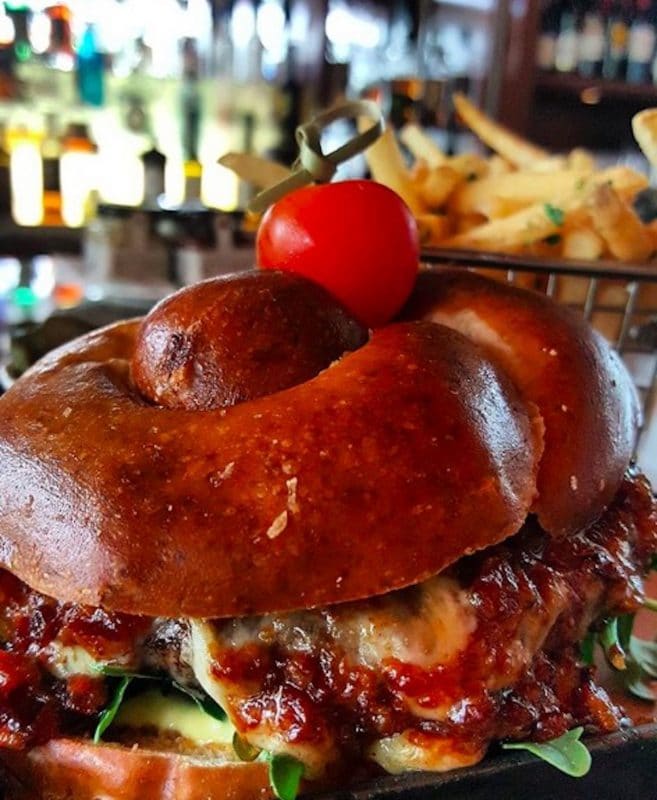 The State Fair Prime Burger at The Ritz Carlton is going to cost you a little bit more than you might be accustomed to for a burger ($20) – but, if you are going to splurge on a hamburger make it this one.
This hamburger comes topped with hopscotch cheddar, onion-bacon jam, aioli, and arugula and served on a pretzel bun.
State Fair Kitchen + Bar, 68900 Frank Sinatra Dr, Rancho Mirage (inside The Ritz Carlton), (760) 321-8282
Boy's Hamburgers
Great prices.  Delicious burgers.  Big portions.  Low prices.
What's not to love about that?
Boy's Hamburgers, 68100 Ramon Rd., Cathedral City, (760) 321-7757
Habit Burger
Habit only recently opened up a couple spots in the Coachella Valley, but they have been slingin' their hamburgers since the first Habit Burger opened up in Santa Barbara in 1969.
Just be sure not to order a "hamburger" as these are charburgers!! Get them as a single or double them up.  You can also get them topped with various items like avocado and bacon.
Habit Burger Grill, 73393 Highway 111, Palm Desert / 79174 Highway 111, La Quinta, (760) 564-6900
Fleming's Steakhouse
Every night at Fleming's, they serve up their Prime Burger – topped with Wisconsin cheddar cheese, peppered bacon, lettuce, and tomato – in the bar for just eight bucks between 5 and 7 pm.
That's a pretty good deal on a pretty great cheeseburger!
Fleming's Prime Steakhouse and Wine Bar, 71800 Highway 111, Rancho Mirage (at The River), (760) 776-6685
Enjoy your tasty burger in Palm Springs!!