Looking to start your day with the best breakfast in Indio and Coachella, you have quite a few options including restaurants, diners, casinos, and even doughnut shops serving up tasty items to fill you up in the morning.
Restaurants below are listed in no particular order.  And be sure to check out our picks for:
TKB Bakery and Deli
This sandwich spot ranks at the top of the Yelp rankings nationwide every year and one of the reasons is their Breakfast of Champions Sandwich that comes with scrambled eggs, cheddar cheese, bacon, mayonnaise, lettuce, tomato and avocado on a fresh French roll (or a wrap like the photo above). It's a delicious way to start your day.
TKB Bakery and Deli, 44911 Golf Center Pkwy, Indio, (760) 775-8330
Augustine Casino
The Saturday and Sunday brunch at Cafe 54 is just $15 and you get a ton for that including all-you-can-drink mimosas and tons of breakfast offerings including a carving station, omelette station, and (my favorite) some really good, fresh tortillas! Pro tip: get there early as there is usually a wait after 9 am.
Bonus: The casino also offers a late night steak and eggs special for just $7.99 from 10 pm to 7 am and their chavelas are pretty damn good.
Augustine Casino, 84-001 Avenue 54, Coachella, (760) 391-9500
Serrano's Juice Bar and Grill
So they should've put "grill" first instead of "juice bar" as this place is becoming better known for their breakfasts than their juices.  Choose from a breakfast burrito, omelettes, Eggs Benedict, chicken fried streak, and more.  Now, don't get me wrong, the juices are good too, but the food is why this place is getting 4.5 out of 5 stars on Yelp.
Serrano's Juice Bar and Grill, 46900 Monroe St, Indio, (760) 972-4176
Related: The 10 essential things to eat and drink in Greater Palm Springs.
Sloan's
Dude.  The Bloody Mary here is insane.  Seriously though.  Look at that thing.  Yeah, that's why it's included in our list of the best Bloody Marys in town. But, that's not all.  They also have a big menu loaded with pancakes, skillets, scrambles, crepes, and a ton more.
Pro Tip: When the place is packed, head to the bar where the full menu is served and you can sometimes find an open table.
Sloan's Restaurant, 81539 CA-111, Indio, (760) 347-3923
Arriola's Tortilleria
This place may be the Coachella Valley's best kept secret.  Those that know, have been heading here for years for their tamale boats, nachos (omg those nachos!!!), and tacos – but they also have breakfast that is super good breakfast burritos that they sell for less than six bucks Monday through Friday.
Arriola's Tortilleria, 82721 Wilson Ave, Indio, (760) 347-7782
Andy's Burgers
They sling out their Breakfast Special beginning at 6 am everyday that includes 2 eggs, choice of bacon or sausage, hash browns and toast for under six bucks.  You can also get pork chops and eggs, a gyros breakfast, a breakfast quesadilla, ham, and eggs, and many more options.
Andy's Burgers #4, 83699 Indio Blvd, Indio, (760) 396-5792
The Cafe at Shield's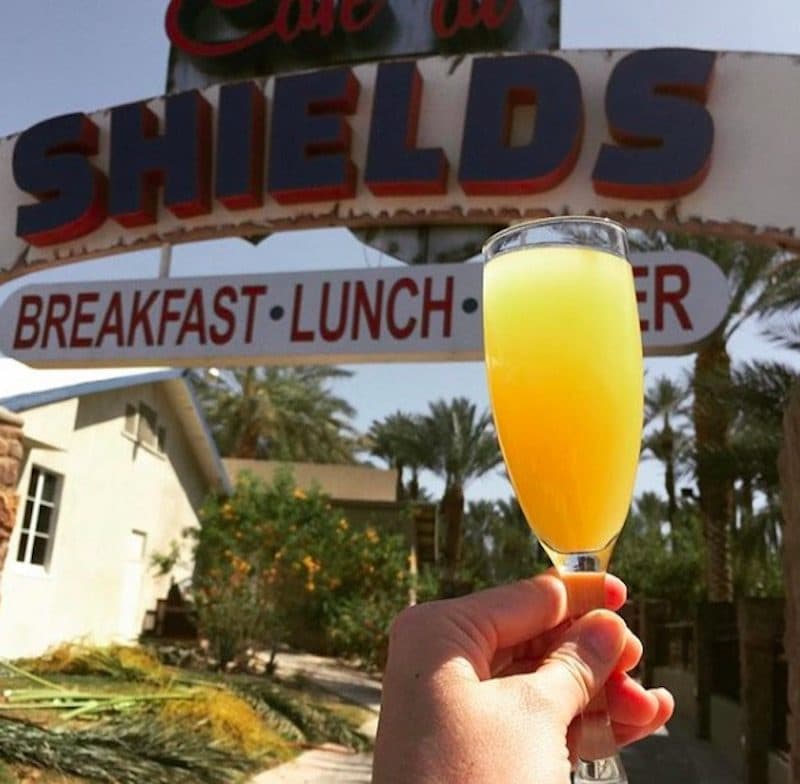 Sure, everyone knows you can go to Shield's for a date shake or to watch that amazing documentary they show all day, but you can also get a pretty good breakfast. The patio is awesome on nice days to kick back and enjoy omelettes, steak and eggs, biscuit and gravy, waffles and more.
The Cafe at Shield's, 80225 CA-111, Indio, (760) 775-0902
Carnitas La Piedad
This mom and pop joint is well known for their amazing carnitas, but they also serve up some tasty breakfast items like chilequiles, huevos con chorizo, and no one is going to mind if you order their awesome carnitas for breakfast – which you can get by the pound!
Carnitas La Piedad, 49625 Harrison St., Coachella, (760) 391-5275
June Hill's Table
This spot is named after June Hill McCarroll, one of Coachella Valley's most renowned and important founding residents. You can't get breakfast here all week, but you can grab Sunday brunch here and enjoy Eggs Benedict, omelettes, and even pizzas at one of the cozy dining areas inside or while taking in some pretty rad views on the patio.
June Hill's Table, 51750 Polo Club Drive, Indio, (760) 797-7229
Casa de Silvia
You will find some delicious chilaquiles, huevos rancheros, heuvos divorciados, and more at this authentic Mexican restaurant in Indio. The chavelas are also really good so have one or two or seven for me while you are there.
Casa de Silvia, 2720 Miles Ave, Indio, (760) 899-3765
Enjoy your breakfast in Indio!
Looking for breakfast elsewhere? Check out our list of the top spots in the Coachella Valley and Palm Desert.  And be sure to check out our list of the essential things you must drink and eat in Greater Palm Springs.