With apologies to December, March really is the most wonderful time of the year. March Madness, the greatest sports tournament in the world, is just around the corner – and if you want to get the best out of this year's basketball tourney, just follow these tips from Stuft Pizza Bar and Grill.
Don't Worry Too Much About Your Bracket
Remember last year, when you spent hours analyzing every team's strengths and weaknesses in order to complete what you thought would be the perfect bracket making you all the money from your co-workers? Yeah, how did that go? You lost. And worse yet, you lost to someone who took 2 minutes to fill their bracket out. Don't stress, have fun with your picks, and, before you know it, you are going to be taking home all the money from your pool.
Oh, and You Know What Helps to Pick a Good Bracket?
Yup, a good beer or two is always helpful while filling out those brackets.
Make Sure Your Work Has Good Wifi
Now would be a good time to check the internet speed at work for all those, ummm, work videos you are going to be watching starting March 15.
Start Faking a Cough
On second thought, why watch the tourney games on your crummy work computer when you cold be watching at a cool place like Stuft Pizza? Start showing "the signs" of coming down with something – a cough here and then, a sniffle, fill up your trash can with Kleenex – then, when you call off on Thursday and Friday, your boss won't be suspicious, she'll be relieved.
Make Sure Your Friends Also Come Down with the "Basketball Flu"
The only thing better than watching the games is watching them with good company. Order up some green bean fries, gorgonzola chips, and an Everything But the Kitchen Sink pizza from the Stuft Pizza menu along with a few beers served up in Stuft's huge mugs and enjoy.
Make Every Moment into One Shining Moment
"The ball is tipped…and there you are…"
Okay, this is not actually a tip, but if it's March Madness, listening to this song is a requirement.
Make sure you have plenty of TVs around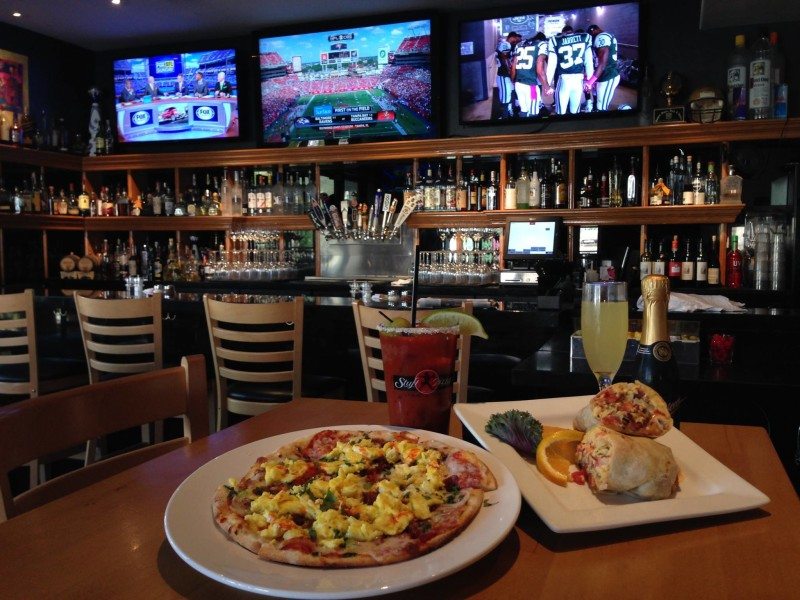 Soooo many games happening at once!  Don't miss any of the action by buying three extra TVs for your living room – or, perhaps an easier thing to do: go to a place like Stuft Pizza bar and Grill in Palm Desert or La Quinta that has plenty of TVs to watch all of the action.
Share Your Winnings
While it's always fun to gloat about winning your bracket, your friends and coworkers can only take so much.  After you have spent time celebrating, invite them out for Happy Hour and spend some of that newfound coin on them.  Stuft Pizza is known for having the best Happy Hour in town – with great food and drink, for a really good price – so you will still have money left over to buy those new shoes you have had your eye on.
Enjoy March Madness!