The weekend is here, but you are still a bit broke from Christmas…no worries, here are 5 things to do in The Greater Palm Springs Area for $10 or less:
1) 'The Guess Who' in Concert (Price: Free!)
The band known for hits like "No Time", "American Woman", "These Eyes" and "Share the Land" take the outdoor stage at The Spa Resort Casino parking lot Saturday night at 7pm. You can afford a beer at the beer garden, since you are getting in (along with everyone else) for free!

2) Polo at El Dorado Polo Club ($10 a car)
Spend Sunday outside enjoying polo. A ten dollar bill gets you (and everyone else in your car) in for the whole day! There is plenty of grub and drink to be had  – or bring your own and park your ride along the field. Plus what other sport let's you walk around on the field at halftime?
3) Stronghold Reggae (Free!)
The ACE Hotel is home to Stronghold: a night of reggae, danchehall, and roots with DJ Journey and Dash Eye plus guest DJ's. It is free to get in and admission won't cost you a thing – but you do have ot be over 21.
4) Take a hike (Free!)
So you may want to plan this on Saturday as The Desert has a 50% chance of rain on Sunday (note: this has our local weathermen very excited). Saturday will be perfect hiking weather with 72 degrees and a few clouds to block the sun from beating down on you. Tons of great free trails around the Coachella Valley – maybe try a new one and leave the Bump & Grind to everyone else.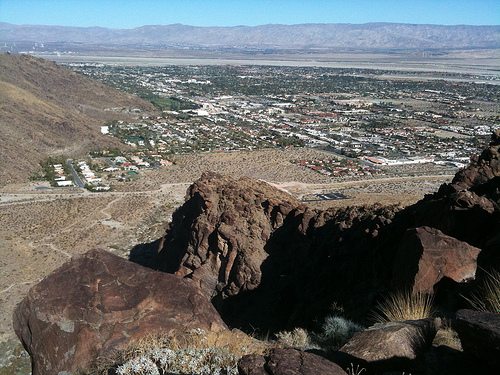 5) Buy This Bottle ($5)
I spotted these bottles for sale at Jensen's in Palm Desert on Friday night. 5 bucks for a gigantic bottle of wine (and at that price, you know it is good, quality stuff!)
Whatever your weekend plans turn out to be, have a blast – and thanks for reading.