A few days every year, residents of Palm Springs and the Coachella Valley get to live through 120 degree temperatures. While this sure seems like something that humans should be doing, we do it anyway! But, we do tend to change things up about our lives when the temperature gets into the hot af range. Here's how:
You try to get everything done as early as possible
Getting up at 5 am suddenly doesn't seem all that bad.
Shaded parking becomes more valuable than gold
WHY IS THERE NOT MORE SHADED PARKING IN THE COACHELLA VALLEY?
Calories don't count
You are surviving 122 degrees. Eat all the ice cream you want.
Nothing gets left in the car
No people.  No chocolate.  No soda cans.  Nothing.
You despise the light

Your home has become a cave and you're now yelling at everyone to shut the door to keep in the cool air!
You become a stunt driver
When you get in your car and have to drive like this cuz your steering wheel is as hot as the sun. pic.twitter.com/EUJJkbsPTC

— Andrew Dixon (@Awd3495) June 29, 2015
You just parked for ten minutes, so how in the world did the steering wheel get so hot
You pray the power doesn't go out
Let's not even think about this right now.
You pray your workplace's power does go out
Well, I mean, you don't want your company to lose money, but no lights means you might just have to go home early and…
You get all kinds of caught up on Netflix
You might finally even get around to watching Ozark, which has been on your watchlist for years now.
Your newsfeed becomes nothing but thermometers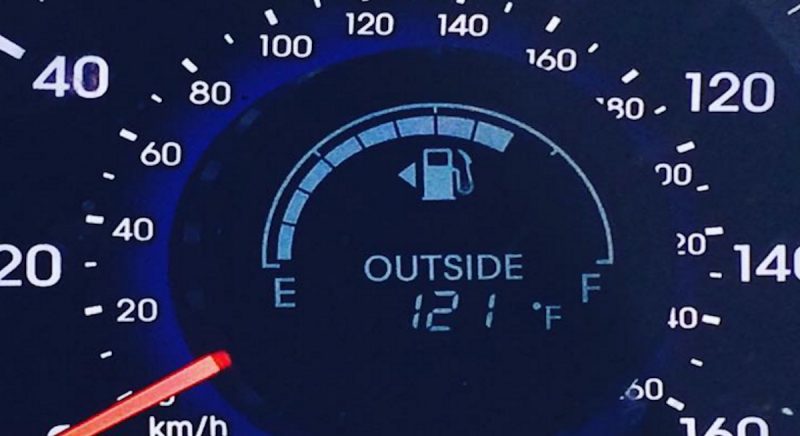 Remember, the temperature doesn't count unless it's shared by all of your friends on Facebook.
Stay cool out there!